Are you looking for the best apple orchards in West Virginia? This guide will help you out!
We list the best places for apple picking in West Virginia and give details about when to go, what to do there, and more!
Did we miss any amazing places to get apples in West Virginia? Let us know in the comments. Thanks!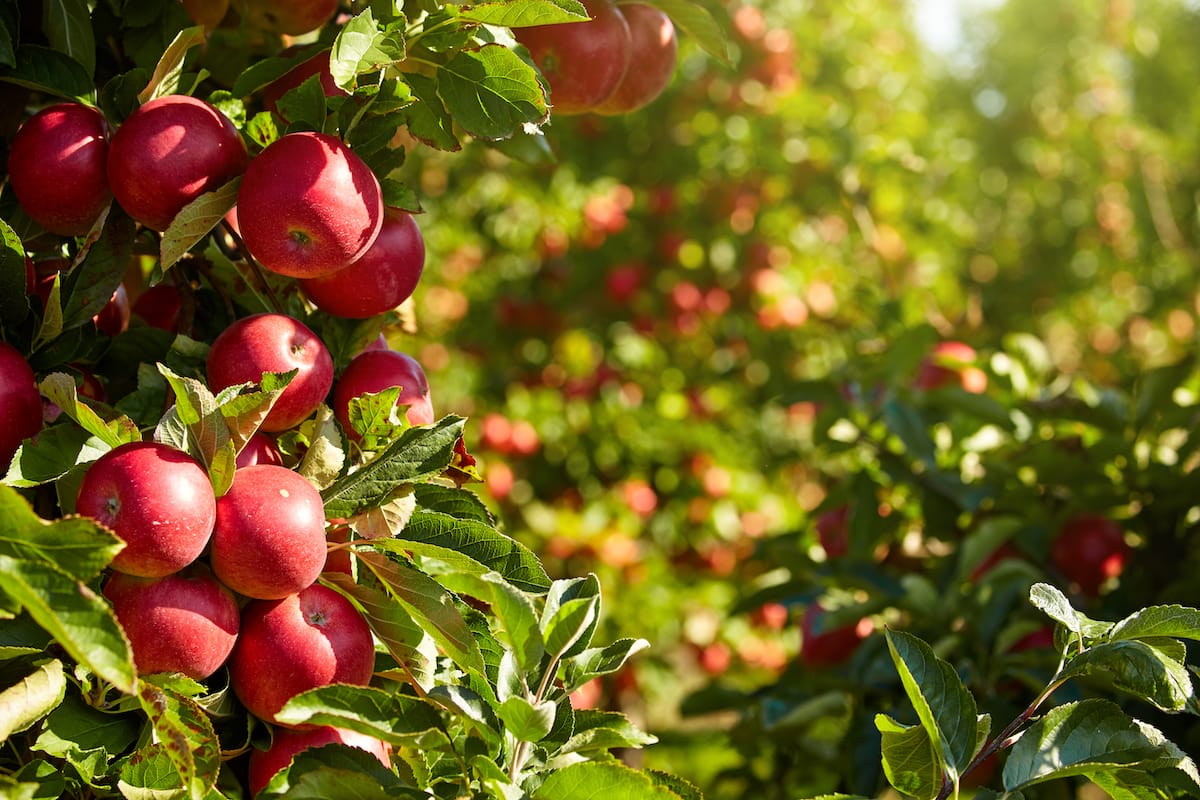 When Can You Go Apple Picking in West Virginia?
The apple orchards in West Virginia mostly open during September and remain open until the end of October.
If you go in August, you might be able to score some, but no guarantee!
However, if you go during October, you may also get a chance to go pumpkin picking if the farm has a pumpkin patch!
Best Apple Orchards in West Virginia (+ Farms)
Taylor's Farm Market
Location: Inwood
Website
Welcome to the area's newest Farm Market, Taylor's Farm Market! It is located in the small WV town of Inwood.
Taylor's Farm Market debuted in May 2014 and is conveniently situated just off I-81 in Inwood, West Virginia.
They carry many West Virginian wines, local honey, different jams and jellies, apple butter, and sauces from Oliverio's Peppers in Clarksburg – in fact, they're so keen on keeping everything local that some of the honey they sell are from the bees that were in the apple orchard for pollinating earlier in the spring!
Down at Taylor's Farm Market, you can buy farm fresh produce, bulk candy, pies, organic ice cream, local meats, baking mixes, organic milk, local free-range eggs from Gerrardstown, tomatoes, and more.
What they don't grow themselves, they buy from local farmers when available, so the customers will have different types of produce to choose from when they walk in the market.
In addition to a wide range of other fresh local products, Taylor's Farm Market produces over 130,000 bushels of apples, and 5,000 bushels of peaches, cherries, plums, and nectarines, all of which are sold in the farm market.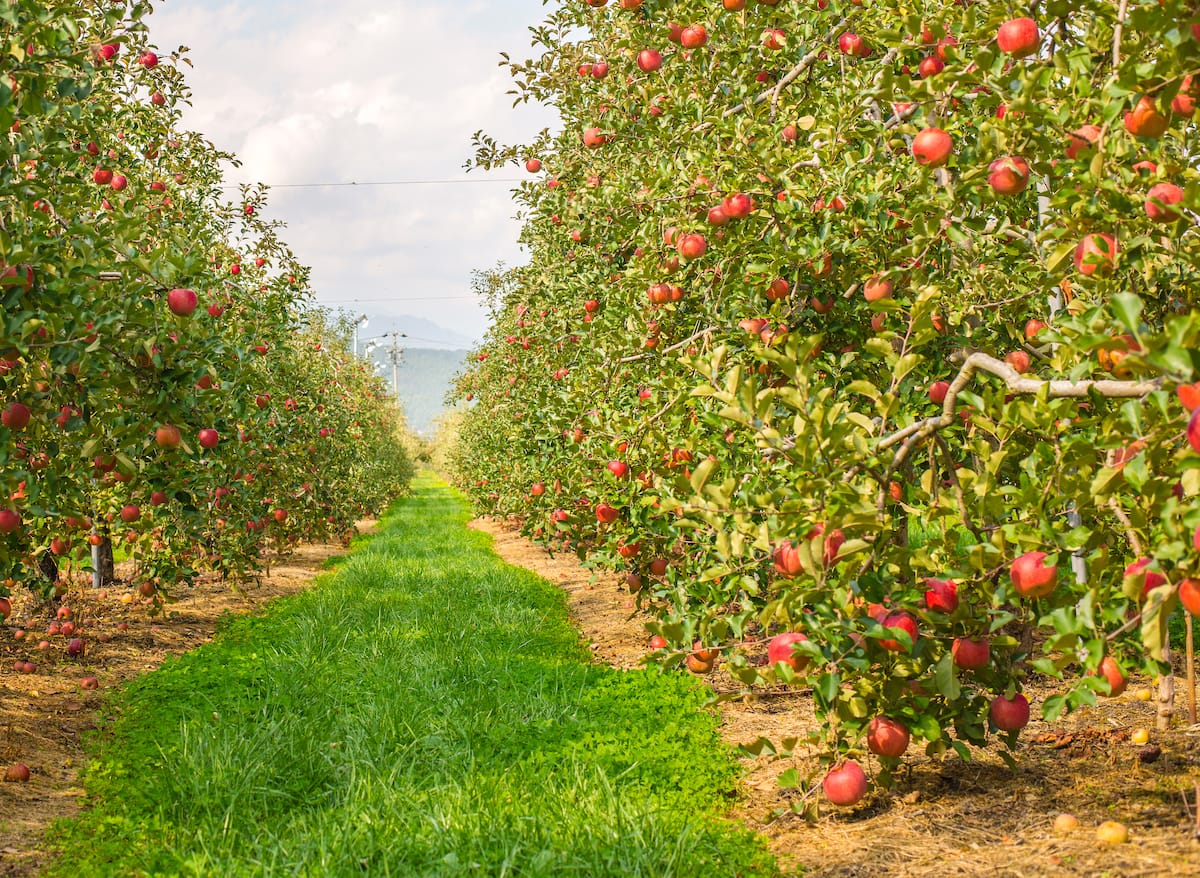 Ruggles Orchard
Location: Levels
Website
Since 1972, Ruggles Orchard has been run by an all-American family.
Peaches and apples come in a wide variety there. They also have pears, plums, cherries, and nectarines. Everyone is welcome to visit and select their own cherries.
To place an order, call 304-492-5751 and leave a message and they'll get back to you with more details on your order.
Always check the orchard's opening hours by calling ahead before visiting as well. Some of their products are Arkansas Black, Fuji, Pink Lady, Summer Rambo, Paula Red, Ginger Gold, Ozark Gold, Gala, Honey Crisp, Jonathon, Grimes Golden, and McIntosh.
Have fun and take part in the u-pick of the season with family and friends, spending the fall season outdoors.
Since the 70s, Ruggles Orchard has been creating a name for itself and continues to exceed expectations of visitors coming in nationwide for their fresh fruits and vegetables.
Rellim Orchard
Location: Kearneysville
Website
Abraham S. Miller and his wife Susan Turner Miller named and founded Rellim Orchard in 1880.
Rellim was a dairy farm and nursery where fruit and garden plants were grown and sold. Till Mr. Miller's passing in 1929, when the farm was given to one of his four sons, Paul E. Miller Sr., Rellim carried on in this way.
Paul began converting the land to a tree fruit orchard operation during the 1930s. The second-oldest continuously running orchard in the state of West Virginia, Rellim, which is Miller spelled backward, is listed on the National Register of Historic Sites.
They plant 29 distinct apple cultivars at Rellim. Old-fashioned "Yellow Transparent" apples are usually the first apple they harvest during the first week of July.
In late August, "Gala" is usually the next variety. The last apple harvested is called "Pink Lady," and it usually matures in the final week of October.
They typically start harvesting "Fall" produce around September 20 with "Empire" and "Golden Delicious."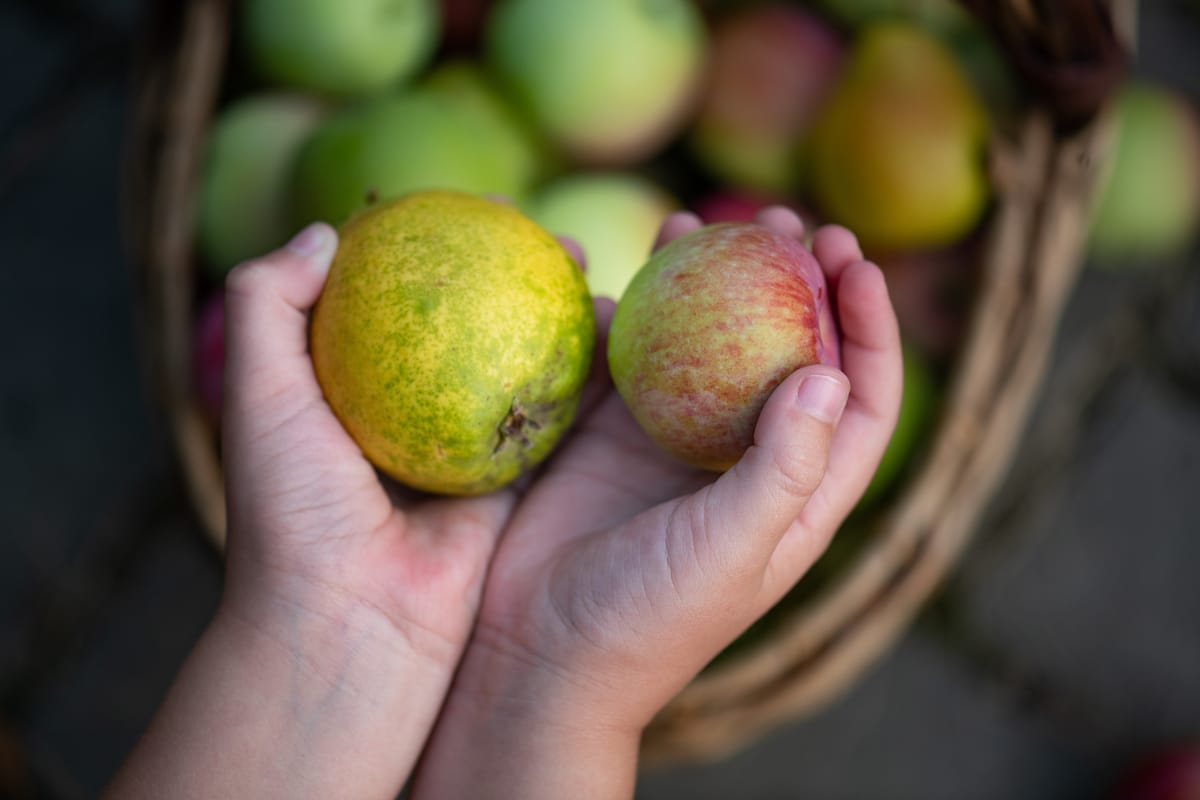 Kitchen's Orchard and Farm Market
Location: Falling Waters
Website
Kitchen's Orchard is a short distance from I-81 and halfway between Martinsburg, West Virginia, and Hagerstown, Maryland.
They also serve a large number of customers from the Winchester, VA area as well as customers of Western, MD, and PA due to the popularity and the high caliber of the products.
When they are in season, they provide farm-grown and orchard-harvested fruits and vegetables.
Along with seasonal flowers, plants, pumpkins, mums, and other decorative items like corn stalks, hay bales, and gourds, they also sell naturally grown beef from the farm.
Every Fall, deer apples are available, and fairly popular as well. Some of the locally grown vegetables include white potatoes, sweet onions, purple onions, spring onions, radishes, zucchini, yellow squash, and hydroponically grown lettuce, spinach, and kale.
Their dairy products include Creamline Country Creamery Buttermilk, heavy cream, whole and chocolate milk, and ice cream.
They're open Mondays to Fridays from 9:00am to 5:30pm and Saturdays from 9:00am to 4:00pm. 9AM to 5:30PM. Hours vary on holidays.
Orr's Farm Market
Location: Martinsburg
Website
George S. Orr, Jr. assisted his grandfather by laboring on his modest fruit and berry farm during the depression in the middle of the 1930s.
This farm was situated on the east slope of North Mountain, just west of Martinsburg (Arden). When George was a young man, he enlisted in the U.S. Navy and went to California, where he eventually met Juanita, his wife.
George S. Orr, Jr., who had a lifelong passion for fruit production, returned to West Virginia in 1954 and bought a 60-acre orchard. By 1979, his family had assisted him in expanding his orchard to a total of 350 acres.
The family established Orr's Farm Market in 1995 as a neighborhood grocery store. The local consumer base soon expanded as word of the fruits and vegetables being grown spread.
For the following ten years, the farm added bison meat to its market offers. They also have grapes available to pick for yourself.
The varieties change from week to week. Blackberries and blueberries are also options when wanting to partake in the u-pick season.
As you can see, apart from apples, Orr's Farm Market has a lot of variety and rich background and history.
Come during autumn and have fun in the fields, picking your own fruit, and buying organic goods from their market!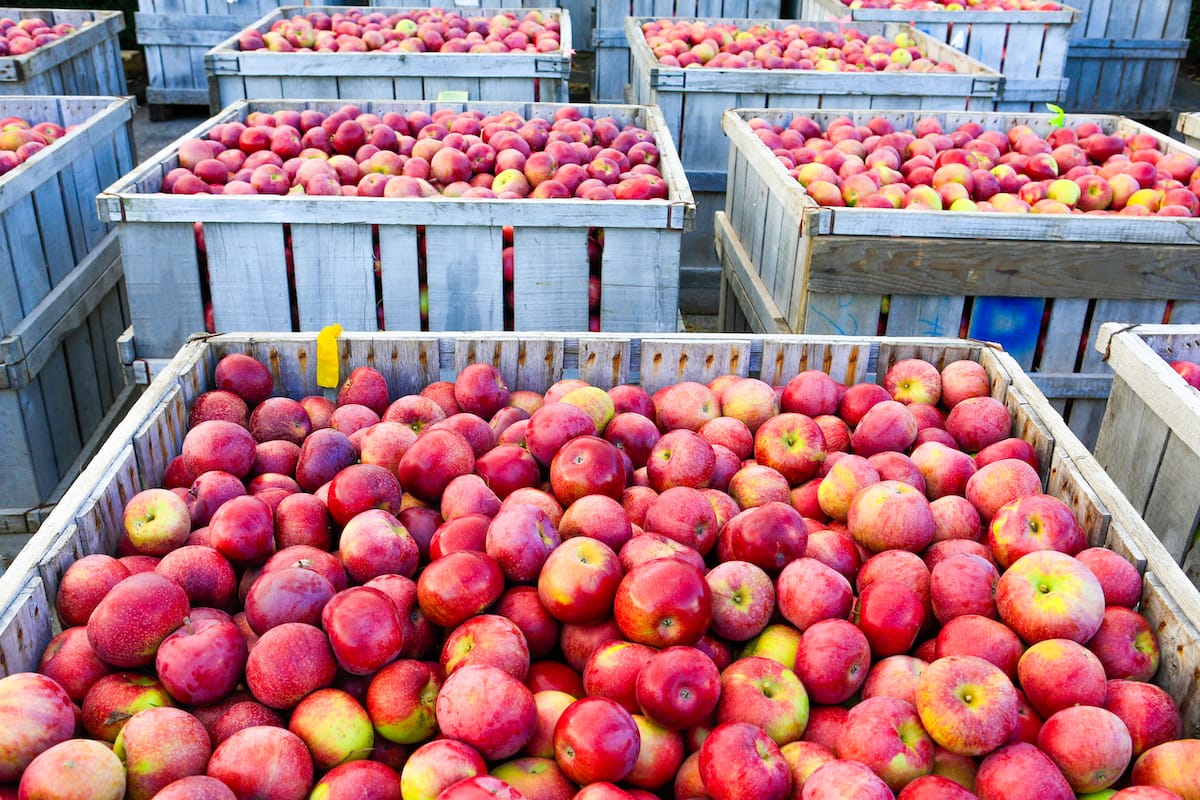 Ellis Apples and Farm Market
Location: Hedgesville
Website
Spend a day in the picturesque Hedgesville with family and friends, taking part in the u-pick of the season during the fall months.
Down at Ellis Apples and Farm Market, enjoy their number of baked goods made with their locally grown apples, all fresh and organic!
You can choose to buy the apples pre-packaged or pick them for yourself – either way, you'll definitely get to enjoy Ellis Apples and Farm Market to the fullest! Their prices vary based on apple type.
Ellis Apples and Farm Market is the perfect place to go if you're looking to spend some time with loved ones or if you need a good place to go to for a quick West Virginia getaway.
They also hold yard sales sometimes too, and, if you're lucky, they could be hosting some around and you can choose to indulge a bit. Their hours are Mondays to Saturdays from 9:00am to 5:00pm.
Did we miss any of the best apple orchards in West Virginia on this guide? Let us know your favorite places to go apple picking in West Virginia!
More West Virginia Travel Guides
Pin this West VA Apple Orchards Guide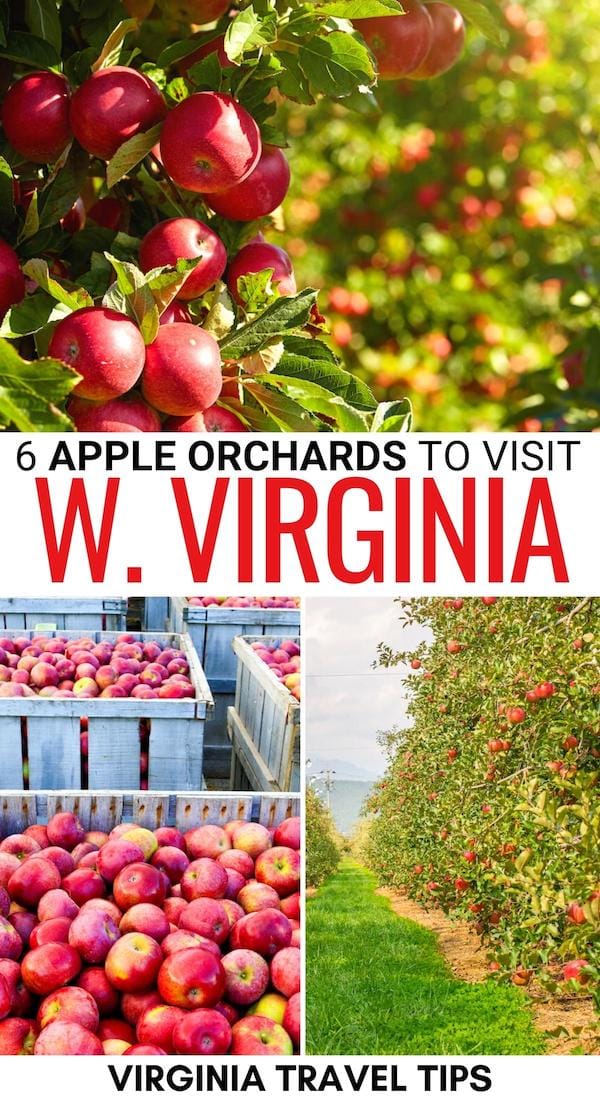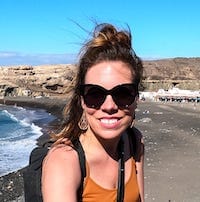 Megan is a travel blogger and writer with a background in digital marketing. Originally from Richmond, VA, she has lived all around the world (including Germany, Finland, Norway, etc) but her heart always finds its way back to Virginia. This blog is to help encourage travelers to explore the great state of VA… and its wonderful neighbors! Megan has written for or been featured by National Geographic, Forbes, Lonely Planet, Fodor's Travel, the New York Times, and more. She has visited 45 US states and 100+ countries… and wholeheartedly believes that Brunswick Stew is probably the greatest food to ever exist.