Winston Salem is, without a doubt, one of the most underrated cities on the East Coast. This guide covers the best things to do in Winston Salem NC for first-time visitors, including historical places, food, and more!
Are you planning your trip to Winston Salem last minute?
If you're traveling to Winston Salem last minute, you want to ensure you have lodging booked ahead of time! Below are some of our top picks to help you plan!
Where to Stay in Winston Salem:
🚗 Looking for the best way to get around NC? Click here to check rental car rates for North Carolina!
We discuss great places for BBQ, southern food, and more. We also give you the details about the best Winston Salem landmarks for history lovers as well as green spaces for nature lovers!
Did we miss any amazing Winston Salem attractions? Let us know in the comments. Thanks!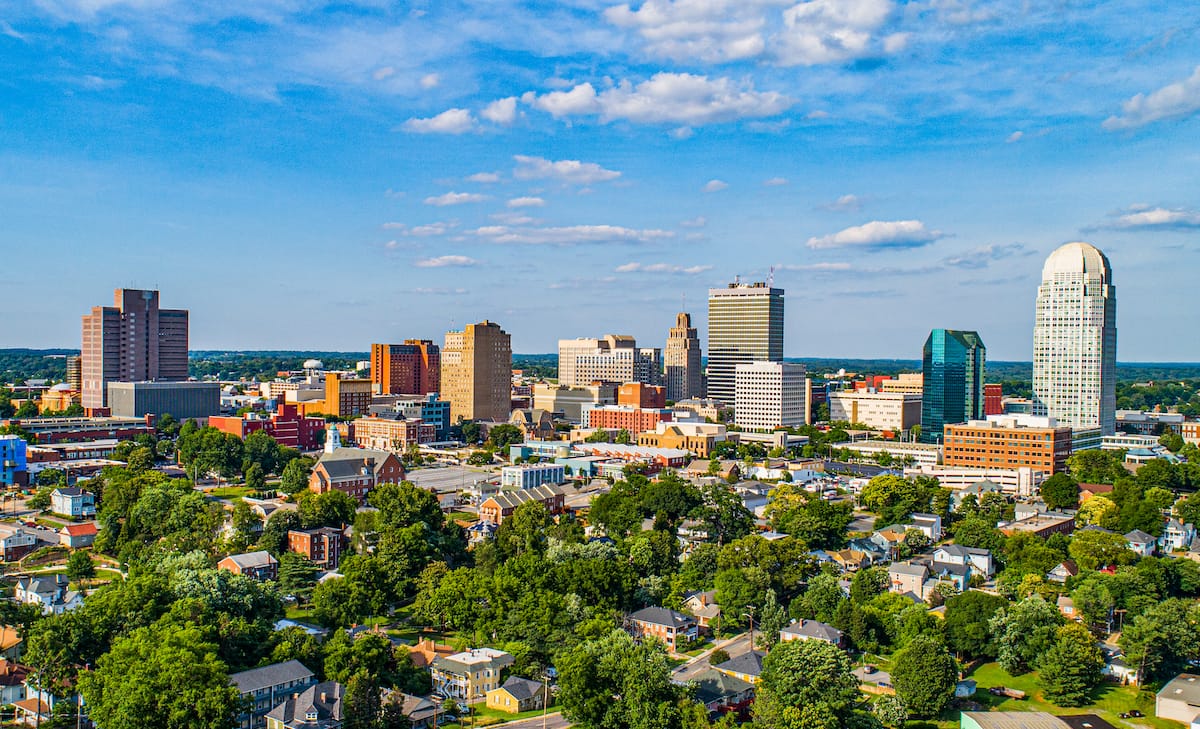 Best Things to Do in Winston Salem
Visit the West End Historic District
Travel back in time and witness a late 19th and early 20th-century urban neighborhood referred to as the West End Historic District, nestled on the western side of the city of Winston Salem.
Spanning over 230 acres of land, you'll find a system of curvilinear streets, plenty of well-preserved buildings, terraced lawns with stone retaining walls and steps, rich architecture, parks, shopping, and dining sites.
Strolling the historic streets, you can certainly feel that the Winston Salem district has retained the integrity of its original period of significance.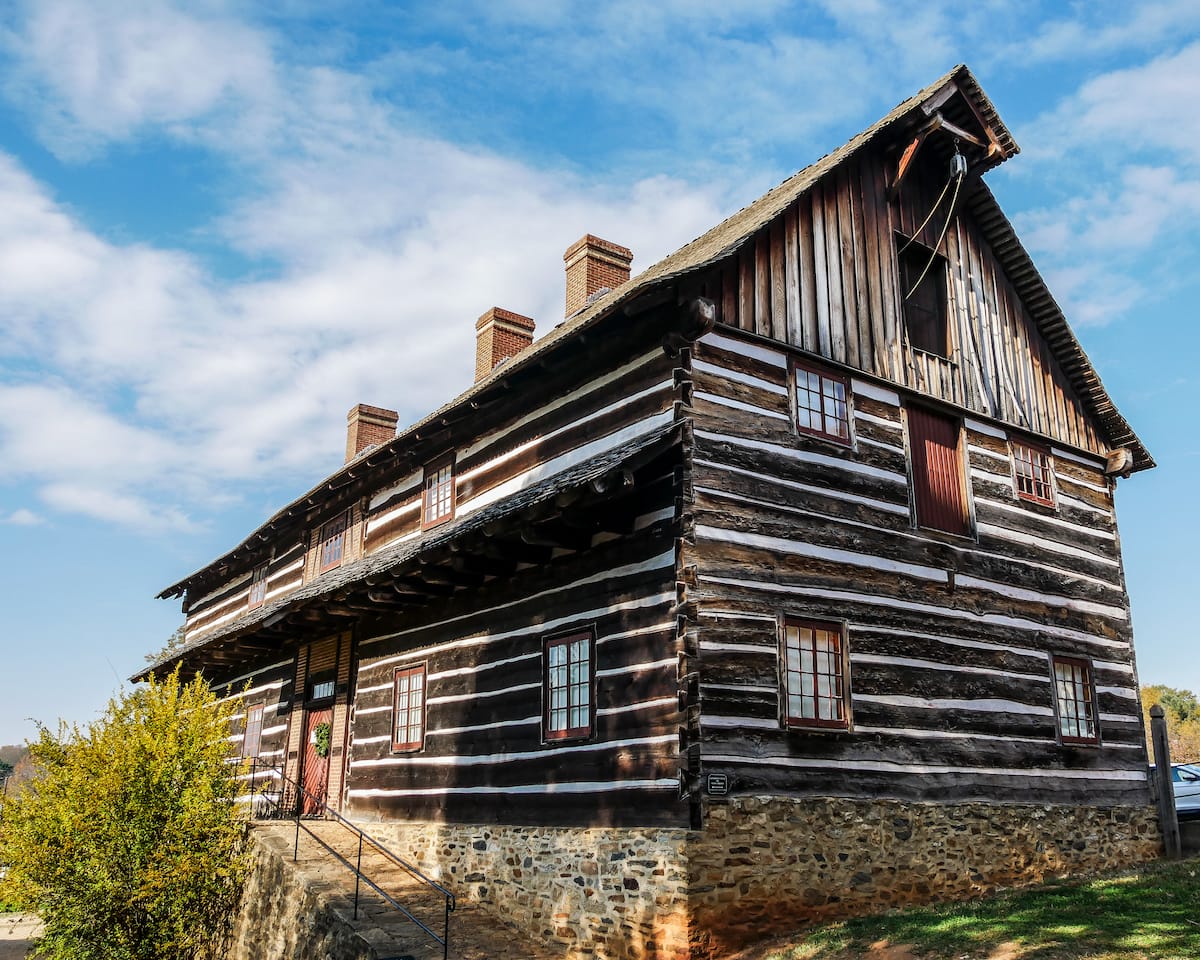 Don't be startled to see more than 500 still intact buildings dating back to 1897 through 1930 and various historic architectural style houses side by side reflecting the West End's period of development, including Queen Anne, Classic Revival, American Craftsman, and Colonial Revival.
Make sure not to miss visiting a few of the district's most notable buildings, such as the H.D. Poindexter house and the Zevely House.
Address: 1318 Glade St NW, Winston-Salem, NC 27101
Enjoy the Peppercorn Theatre at Kaleideum Downtown
If you are visiting Winston Salem with kids, then add the Peppercorn Theatre at Kaleideum Downtown to your list of must-visit places.
It is a non-profit theater that aims to inspire wonder, curiosity, and lifelong learning in children and Winston Salem's community.
Established in 2010, the Peppercorn Theatre joined the Children's Museum of Winston Salem in late 2014 to reach a larger number of the city's youth.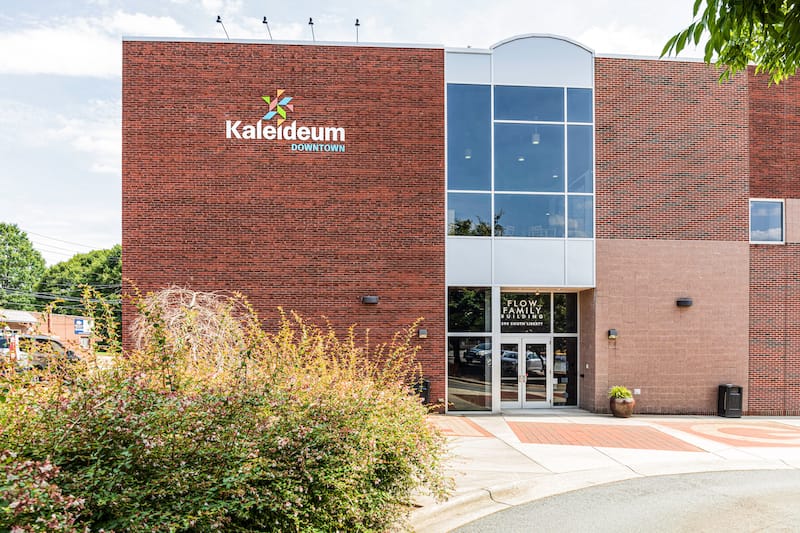 Here your kids will gain leadership skills, unleash their creative potential, and get into interactive play and discovery.
Throughout the year, you can enjoy the best of the local theatrical talent, catch various entertaining and educational family-friendly theater works, and watch unique puppet shows.
Up until now, the Peppercorn Theatre has produced more than 30 original plays for the young and young at heart in collaboration with the Reynolda House Museum of American Art, Delta Arts Center, Krankies Coffee, and Hanesbrands Theatre.
Address: 390 S Liberty St, Winston-Salem, NC 27101
Explore the Frank L. Horton Museum Center
Antique lovers should definitely check out Frank L. Horton Museum Center, which houses the Museum of Early Southern Decorative Arts (MESDA) dedicated to the preservation of antiques made in the South.
Once serving as a grocery store, it was later turned into a museum in the mid-1900s, showcasing the country's finest collection of southern decorative arts and related scholarly resources, such as architecture, ceramics, furniture, metalwork, paintings, prints, needlework, and many other decorative art gems.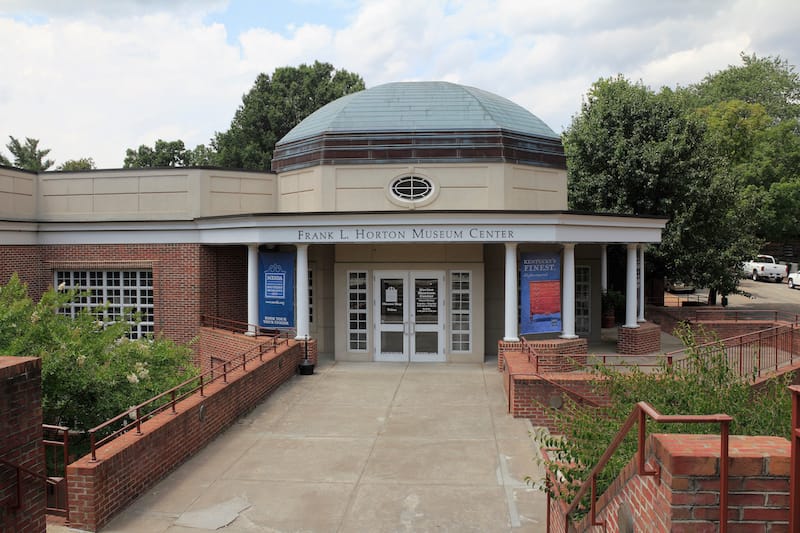 It was founded by prolific decorative arts researcher Frank L. Horton and his mother Theodosia "Theo" L. Taliaferro, with the main vision being to raise awareness and make others appreciate diverse domestic objects of the early South.
Launched in the early 1970s, MESDA's innovative research program helped identify over 200,000 objects, plus 80,000 artists and artisans from the early South.
Address: S Main St, Winston-Salem, NC 27101
Enjoy the Old Salem Museums & Gardens
Experience Salem's authentic historic charm at the Old Salem Museums & Gardens, which is a perfect example of restored town's living history.
This community-run project was established in the 1950s by a group of volunteers to preserve Salem's rich heritage and make it accessible for visitors to this date.
Here you can get a real sense of what life was like in one of the state's oldest communities back in the 18th and 19th-centuries. The museums and gardens are nestled in the Old Salem Historic District, where you can enjoy self-guided walking tours, eat, and even shop.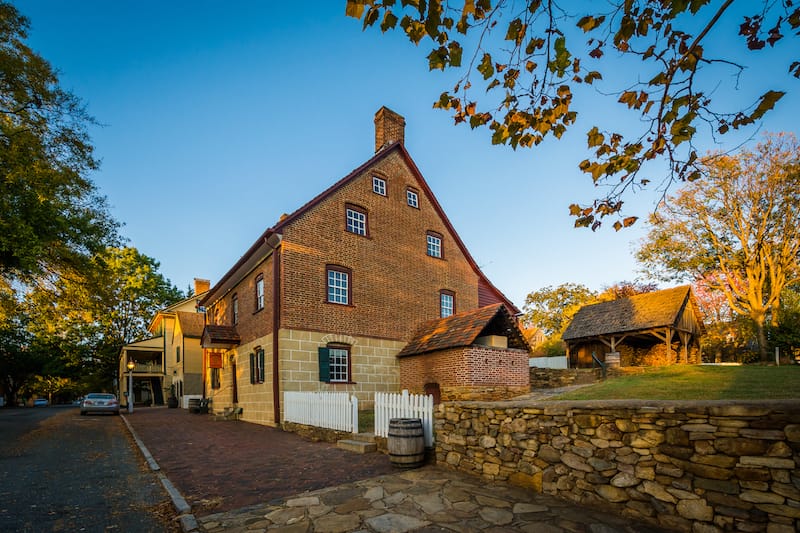 Wander through the historic district to witness many old buildings and replicas of historic buildings and learn more about the cultural significance of Winston Salem.
The area highlights stories of the Moravian community in North Carolina, the Indigenous people of the Southern Woodland, and enslaved and free people of African descent.
Address: 900 Old Salem Road, Winston-Salem, NC 27101
See Winston Salem with Triad ECO Adventures
If you are after out-of-the-box adventure ideas, then add Triad ECO Adventures to your bucket list. There is no better way to explore stunning Winston-Salem than with a fun Segway trip offered by Triad ECO Adventures.
First, you will pass a comprehensive safety training and then head on a 2-hour exciting ride to discover the downtown.
Make sure to take part in SEGWAY Greenway Excursion to glide through the Salem Creek Greenway or Segs'N'city Tour/Exercise to have a fun tour mixed with history-filled adventures while passing tobacco and textile plants, the new county government building, downtown's prison, Old Bailey Power Plant, etc.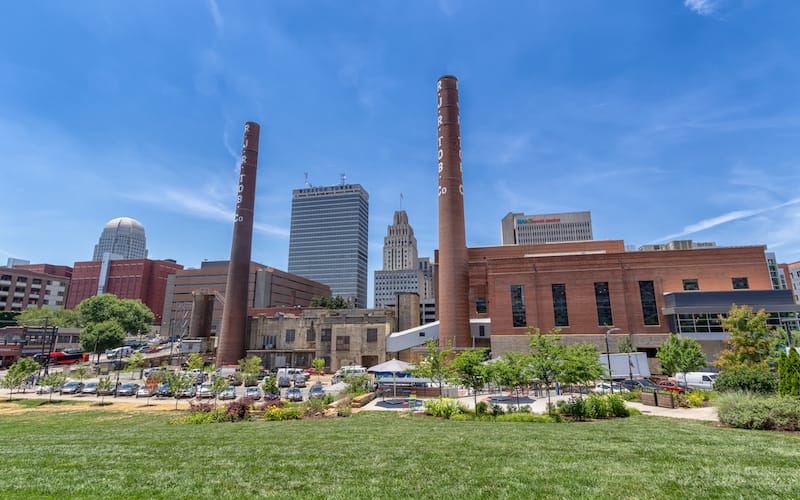 Triad ECO Adventures also organizes private group events so you can enjoy your birthday celebrations, family reunions, or team buildings in style.
In case a Segway tour is not your thing, you can still explore the city by eBikes, eSkateboards, trolley tours, or from the water by trying stand-up paddleboarding tours.
Address: 176 Ywca Way, Winston-Salem, NC 27127
Hike the Salem Lake Trail
Nature enthusiasts can set off to explore Salem Lake Park while hiking the Salem Lake Trail.
This 7-mile hike around Salem Lake is one of the most popular spots for a refreshing run in the Winston Salem area that will get you to admire scenic lake views, especially during the fall season.
The 365-acre park is the perfect place for outings, where you can often see equestrians, runners, walkers, and bikers. Just note that bank fishing is forbidden; however, you can still bet on your next great catch while fishing from boats.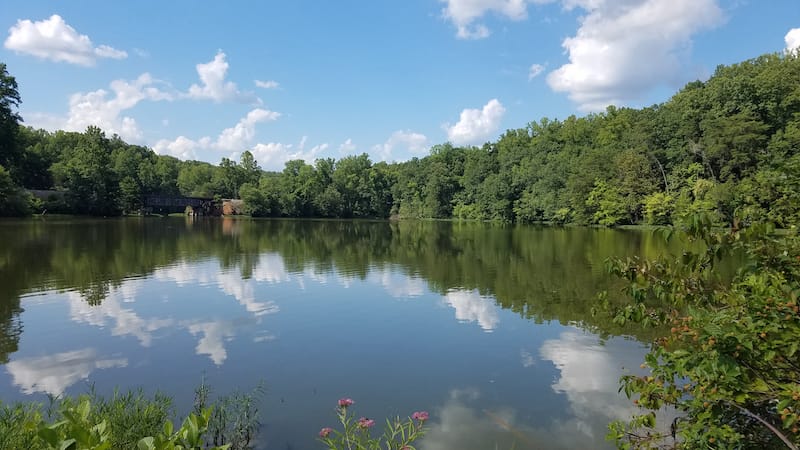 At the west end of the lake, you will find the paved multi-use Salem Lake Greenway, where you can take a stroll through green areas that will lead you to Marketplace Mall situated on Peters Creek Parkway.
Wildlife viewing is another popular activity along Salem Lake Trail, so keep an eye out for songbirds, waterfowl, and whitetail deer.
Stop by the Southeastern Center for Contemporary Art (SECCA)
Get a great dose of inspiration while exploring outstanding contemporary art in Southeastern Center for Contemporary Art, also known as SECCA.
The center is the main hub to admire Winston Salem's emerging art scene as it showcases a wide range of masterpieces created by local, national, and international artists.
Throughout the year, SECCA hosts various innovative, educational, and artistic performances and offers social programs for people of all ages.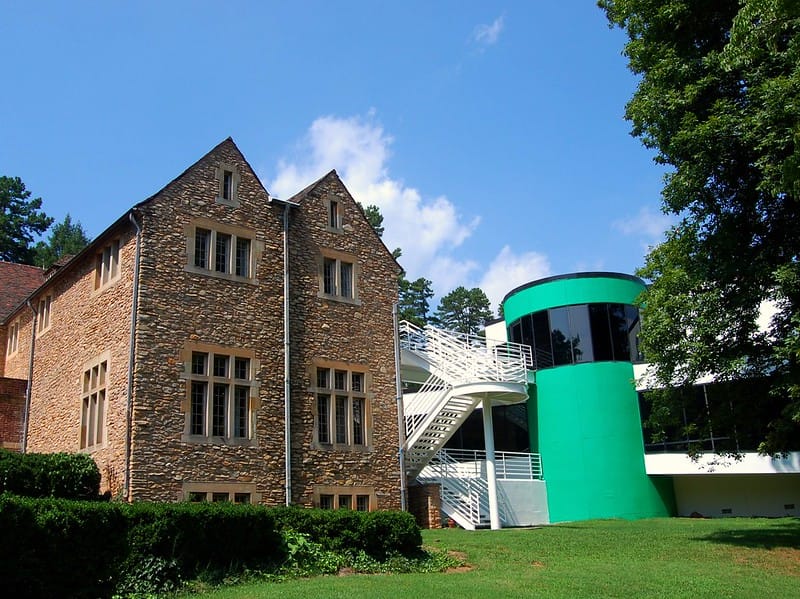 It also features a few programs for children, including the free weekly Art in the Overlook Gallery gathering, where kids can reflect on the art of our time.
To immerse yourself in a complete artistic experience, don't miss film nights held at Film @ SECCA, which presents classical films, documentaries, and experimental media created by featured artists.
The center also collaborates with the Metropolitan Opera to organize special musical evenings on a regular basis.
Address: 750 Marguerite Dr, Winston-Salem, NC 27106
Eat at Ryan's Restaurant
Level up your dining experience at Ryan's Restaurant, located in a lush setting, just minutes from downtown Winston Salem. Since 1977, the restaurant has been a foodies' favorite by offering a traditional menu with the Chef's signature touches.
They have a diverse menu packed with juicy steaks, delicious chops, live Maine lobster, and seafood that perfectly match their award-winning wines.
For a completely delicious experience, order a creamy cappuccino along with one of their mouth-watering fresh desserts.
Whether you choose to start the evening in an elegant dining room amidst a rustic setting or top it off on a spacious outside deck surrounded by giant live oaks and a rushing stream, you will be treated to an unparalleled culinary experience.
In the winter months, you can dine around a crackling fireplace and take in stunning views from the comforts of a cozy sofa or window-side seats.
Address: 719 Coliseum Dr. NW, Winston-Salem, NC 27106
Check Out the Village Tavern
If you're craving classic American cuisine in the heart of Winston Salem, look no further than the Village Tavern.
It has been in operation since 1984 with the main goal to provide its guests with diverse options of delicious food at affordable prices served with exceptional hospitality.
Village Tavern is the ideal place for neighborhood gatherings, be it business breaks, family gatherings, or date nights. They offer lunch, dinner, gluten-free options, and even a kid's menu, as well as craft cocktails perfect for every occasion.
View this post on Instagram
For getting the real taste of their simple yet signature dishes, make sure to try the Firecracker Shrimp Tacos, Tavern Burger, and Teriyaki Filet Mignon.
The charming ambiance and great service paired with friendly and professional staff will create an uncompromising dining experience.
To sample their wide selection of wines, visit on Wednesdays when you can sip a glass of their most expensive wines at half-price.
Address: 2000 Griffith Rd, Winston-Salem, NC 27103
Go on a Black Mountain Chocolate Factory Tour
Do we have any Willy Wonka fans here? If so, then Black Mountain Chocolate Factory, North Carolina's original bean-to-bar Chocolate Factory, should be on top of your list when visiting Winston Salem!
In this chocolate lover's dream destination, you can take a self-guided tour or join an hour-long one with a friendly guide to witness the real-life chocolate-making process from start to finish, which is inspired by the region's artisan traditions.
Unlike many other factories that melt and mold industrial chocolate, Black Mountain Chocolate Factory produces its high-quality, artisan chocolate in small batches to extract as much flavor from cocoa beans as possible.
When leaving, don't forget to satisfy your sweet tooth at the factory store, where you will find gelato, chocolate, pastries, and plenty of hot or cold beverages. It really is one of the most delicious things to do in Winston Salem!
Address: 450 N Patterson Ave STE 110, Winston-Salem
Stroll through Historic Bethabara Park
History buffs should definitely pay a visit to Historic Bethabara Park which is steeped in history and where you can step back in time and explore the region's rich heritage.
The park used to be a small religious village housing Moravians who originally settled there 250 years ago.
Strolling through its historic gardens, hiking 10 miles of trails there, and passing centuries-old buildings, you can still feel the historic beauty in each and every corner.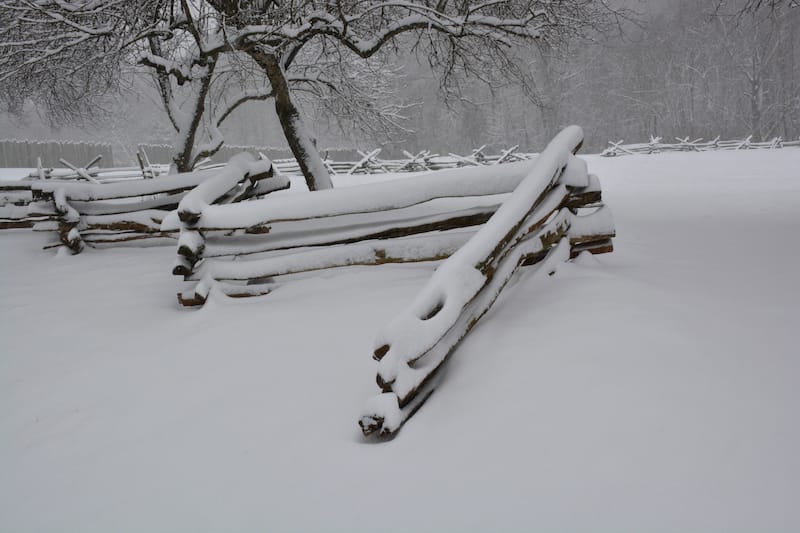 The park is also a famous spot for bird watching as more than 120 indigenous species of birds consider 183 acres of the wildlife preserve home.
To learn more about the park and Moravians, pop over to the visitor center or visit a few of the restored buildings.
Don't miss checking out the 1788 Gemeinhaus Church, the US's oldest standing church with attached residences, exploring a reconstructed French and Indian War palisade and Colonial village, and participating in free special events.
Address: 2147 Bethabara Rd, Winston-Salem, NC 27106
Learn at Kaleideum Downtown
If you are wondering what to do in Winston Salem with kids, then Kaleideum Downtown is the place to go (as we briefly talked about above)!
This museum is a real entertainment mecca for kids, as it features fun, exciting, and educational activities for children of all ages and helps them develop literacy, motor, and social skills.
Trust me, once there, your kid will refuse to go back home! The majority of the museum's attractions incorporate activities such as painting, drawing, reading, and there is a spacious area for active kids who can run, dance, climb, slide, tumble and play as they should.
Here your kids will immerse in their fantasy world, where they can create their own masterpieces, work on a doughnut factory line, show off their acting skills at the Prop Shop, and even shop in the supermarket.
This fun children's museum offers special membership, which includes free admission, discounts at certain retailers, and invitations to members-only events.
Address: 390 S Liberty St, Winston-Salem, NC 27101
Go to the Reynolda House Museum of American Art
If you've ever wanted to witness how America's wealthy lived in the 1920s, then visit the Reynolda House Museum of American Art.
Tour the grounds of this period mansion set on 20 acres of well-maintained landscape, and you will be amazed by its extraordinary interior design decorated by tobacco tycoon R.J Reynolds in 1917.
Inside, you can see a bowling alley, an indoor pool, a squash court, and a life-sized dollhouse. The Museum also houses extensive American art exhibits collected from over 300 years from different American eras.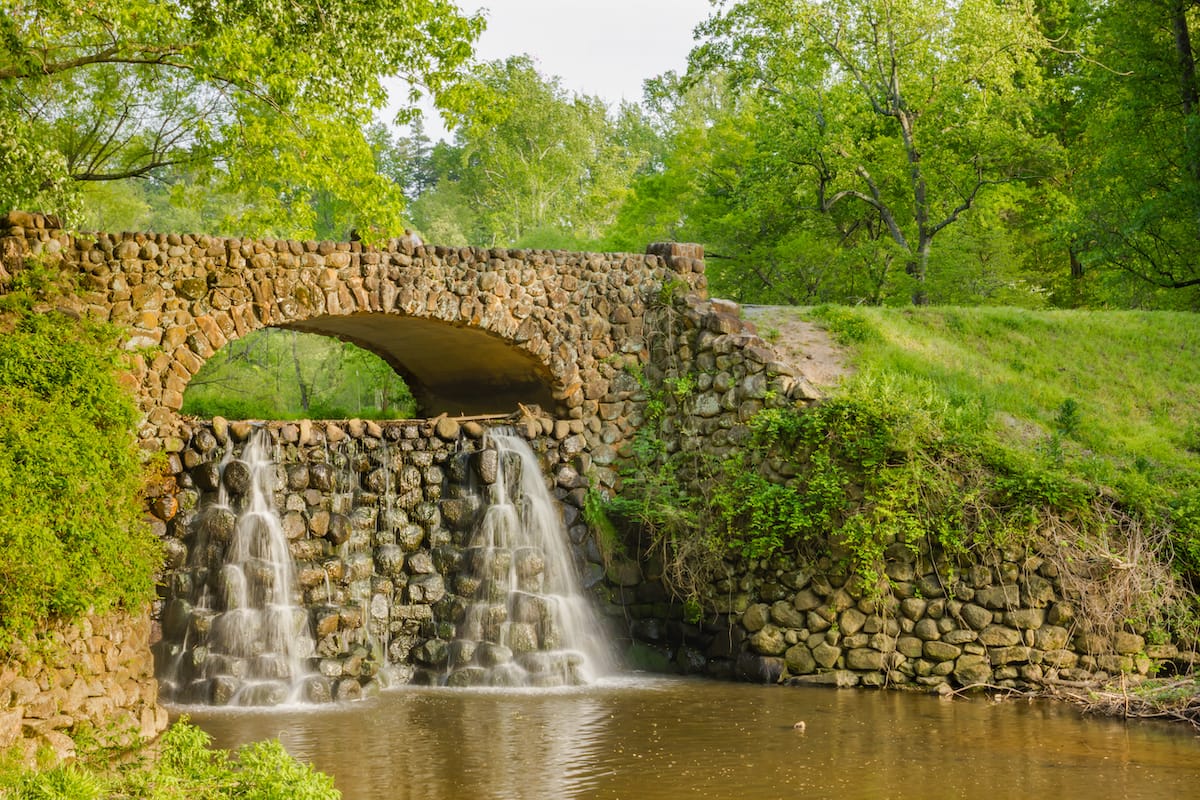 Throughout the year, visitors may enjoy both static and rotating art pieces. After exploring the luxurious estate, take a relaxing stroll on perfectly manicured gardens to take in the cool design.
Nearby, you will find Reynolda Village which has plenty of eating and shopping options.
Address: 2250 Reynolda Rd, Winston-Salem, NC 27106
Enjoy a Pint at Foothills Brewing
When in the mood for a beer, head to Foothills Brewing, one of Winston Salem's most popular breweries in operation since 2005. It has two main production facilities, producing over 32,500 barrels in a 48,000 square foot factory.
Foothills Brewing's delicious craft beers are famous all over North Carolina and several other states.
Those interested in viewing the whole process can visit their main beer-making facility and take part in brewery tours to witness milling, fermenting, brewing, kegging, and finally bottling.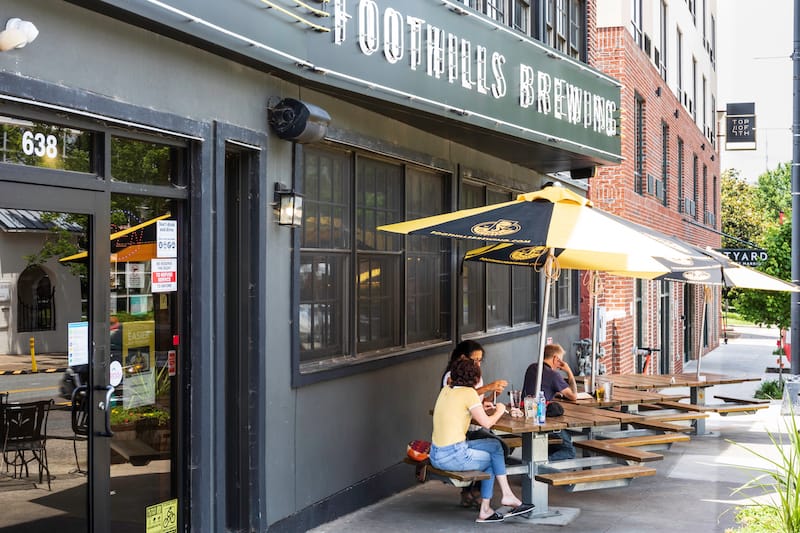 Learn more about the secrets of this unique process in Beer School or sample their best beers in the tasting room.
When visiting with friends, check out their lovely downtown brewpub, where you can pair delicious craft beers with local cuisine and, if lucky, even catch live music there.
Address: 3800 Kimwell Dr, Winston-Salem, NC 27103
Take a Photo of the Shell Station
Nestled on the corner of Sprague and Peachtree Streets, the unique Seashell Gas Station is the last one of its kind in the city. And your Winston Salem trip won't be complete without taking a photo in front of a faded highway icon!
It was built in the late 1930s by the Quality Oil Company, the local distributor of Shell Oil, along with other 7 stations.
Standing there with its two tall pumps as a stunning symbol from a bygone period draws every passerby's attention.
This remaining station operated until the 1950s and turned into a lawn mower repair business from the 1970s through the 1980s and was later abandoned.
This one-of-a-kind Shell Station was the first individual station in the United States that was added to the list of the National Register of Historic Places in 1976.
Address: 1111 E Sprague St, Winston-Salem, NC 27107
Experience Meridian Restaurant
If you are after a fine dining experience, then you can't miss a visit to Meridian Restaurant. Opened to the public in early 2007, Meridian Restaurant is an upscale restaurant offering world-class cuisine.
An elegant interior with modern Italian touches will add extra charm to every occasion!
View this post on Instagram
Savoring delicious flavors of Mediterranean cuisine made with local, organic, and seasonal ingredients will make you want to return to the Meridian Restaurant every time you visit Winston Salem.
A mix of carefully chosen ingredients by executive chef Mark Grohman guarantees another level of flavor heaven to satisfy every taste bud. Everything on the daily changed menu, including bread, pasta, sausages, and mozzarella, are produced in-house.
You can also visit the restaurant just to relax around the bar, enjoy small treats from the tapas menu, and see their cocktail game on point!
Address: 411 Marshall St SW, Winston-Salem, NC 27101
Go to the Winston Cup Museum & Special Event Center
Winston Cup Museum & Special Event Center is a must-see for every NASCAR racing enthusiast.
Founded by Will Spencer in 2005, the museum showcases an extensive collection of racing cars and championship memorabilia from the Winston Cup Series era of NASCAR.
This is the only place where you can walk through and experience the Winston Cup Series stock car racing history.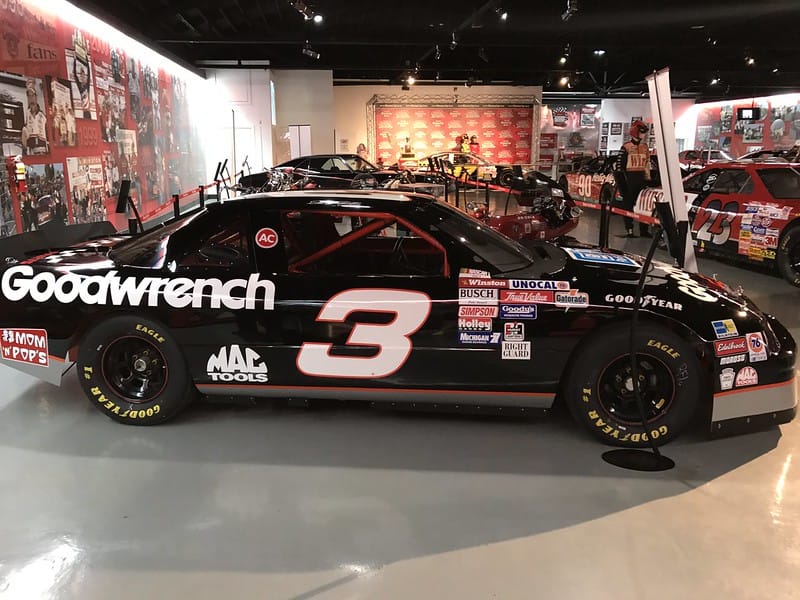 The Winston Salem Museum is a real slice of heaven for fans of NASCAR as they'll get to witness real cars driven by Dale Earnhardt, Wendell Scott, Alan Kulwicki and even experience the victory of Michael Waltrip at the Winston in 1996 and Dale Earnhardt, Jr. at Talladega Superspeedway.
After exploring interesting racing memorabilia, enjoy their interactive displays to immerse in a real-life racing simulation and experience the thrill of driving your own racing car.
Address: 1355 N Martin Luther King Jr Dr, Winston-Salem, NC 27101
Have Sunday Brunch at Sweet Potatoes Restaurant
Sweet Potatoes is a small and cozy restaurant located in the heart of Winston Salem. It is a popular spot for business lunches and family dinners and becomes even more crowded during traditional Sunday brunches.
They offer a diverse menu, so please make sure to decide what you want to order before coming in, or you will spend quite some time trying to decide!
To get the true taste of the chef's mouthwatering dishes, at least try the Ragin' Cajun Turkey Burger, Smothered Yard Bird, or Salmon Florentine and top it off with one of their dessert specials.
A lovely atmosphere, friendly staff, and down-to-earth home cooking will guarantee an unforgettable dining experience. There is no better place to enjoy your next date night than indulging in Sweet Potatoes' romantic setting and sipping one of their vintage wines.
Address: 607 Trade St NW, Winston-Salem, NC 27101
Indulge in Dewey's Bakery
Visit Dewey's Bakery to see how they have been making the lives of their customers sweeter since 1930. Adding Dewey's magic into each original recipe makes their one-of-a-kind treats stand out from the others.
All of their delicacies, including Moravian cookie thins, crackers, soft-baked cookies, and cheese straws, are made with real and non-GMO ingredients.
Moravian Sugar Cake, Moravian Lovefeast Buns, and Grandma and Grandpa Coffee Cakes are some of the Bakery's traditional favorites, which kept homemade traditions lasting more than 90 years.
View this post on Instagram
Dewey's Bakery is also open for custom cake orders for celebrating birthdays, life milestones, holidays, and everything in between.
Since 2012, the Bakery has donated over $1.7 million to regional nonprofit organizations as a part of its community activism program.
Address: 262 S Stratford Rd, Winston-Salem, NC 27103
Treat Your Taste Buds on the North Carolina BBQ Trail
The last one on this list will help you discover North Carolina's barbecue heritage and how diverse barbecue cooking styles have made North Carolina become the barbecue capital of the world.
Featuring 20 delicious stops, the NCBS Historic Barbecue Trail was designed by the North Carolina Barbeque Society with the main goal to preserve the tradition, heritage, and culture of old-style barbecue cooking.
All of those NCBS Historic Barbecue Pits offer you a unique glimpse into how barbeque is still being made in a traditional way, which is over wood and charcoal.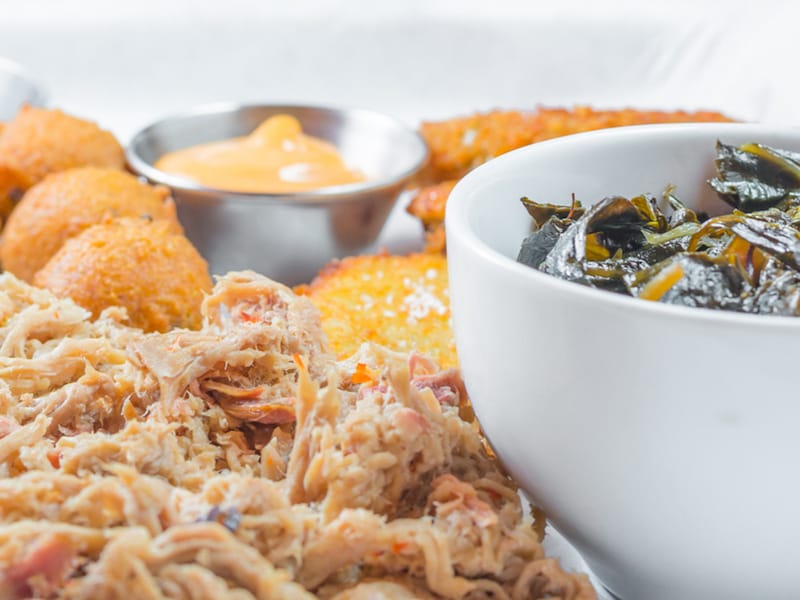 Grady's Barbecue in Dudley, Real Q in Winston Salem, Barbecue Centre of Lexington (in Lexington,) and Red Bridges Barbecue Lodge in Shelby are a few of the must-visit eateries on the trail that will make you savor this delicacy in traditional style.
Where to Stay in Winston-Salem
You will be spoiled for choice when it comes to places to stay in Winston-Salem and below are a few of our top picks in the best areas of the city:
What are the best things to do in Winston Salem NC, in your opinion? Let us know your favorite Winston Salem attractions in the comments! Thanks
More North Carolina Travel Guides
Pin this Winston-Salem Things to Do Guide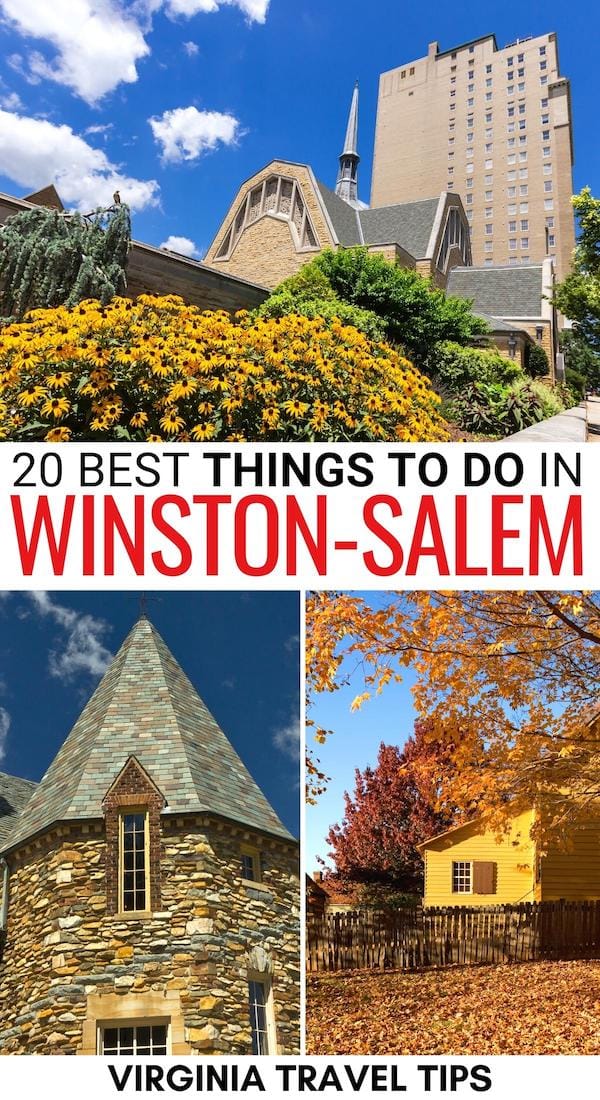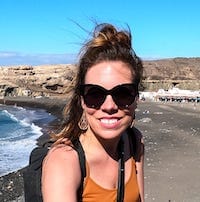 Megan is a travel blogger and writer with a background in digital marketing. Originally from Richmond, VA, she has lived all around the world (including Germany, Finland, Norway, etc) but her heart always finds its way back to Virginia. This blog is to help encourage travelers to explore the great state of VA… and its wonderful neighbors! Megan has written for or been featured by National Geographic, Forbes, Lonely Planet, Fodor's Travel, the New York Times, and more. She has visited 45 US states and 100+ countries… and wholeheartedly believes that Brunswick Stew is probably the greatest food to ever exist.