Are you looking for the best things to do in Asheville NC for your upcoming trip? This guide takes you through the best Asheville attractions, including historical sites, restaurants, and more!
Are you planning your trip to Asheville last minute?
If you're traveling to Asheville last minute, you want to ensure you have lodging/tours booked ahead of time! Below are some of our top picks to help you plan!
Where to Stay in Asheville:
The Inn On Biltmore Estate (the most iconic stay in Asheville!)
The Windsor – Asheville (gorgeous boutique hotel downtown)
Best Tours in Asheville (+ Experiences):
🚗 Looking for the best way to get around NC? Click here to check rental car rates for North Carolina!
There is so much more to Asheville than the Biltmore and the last decade has brought a lot of creativity and innovation into the North Carolina destination!
This guide shows travelers what to do in Asheville and we invite you to leave your top tips in the comments below of things we have missed! Thanks!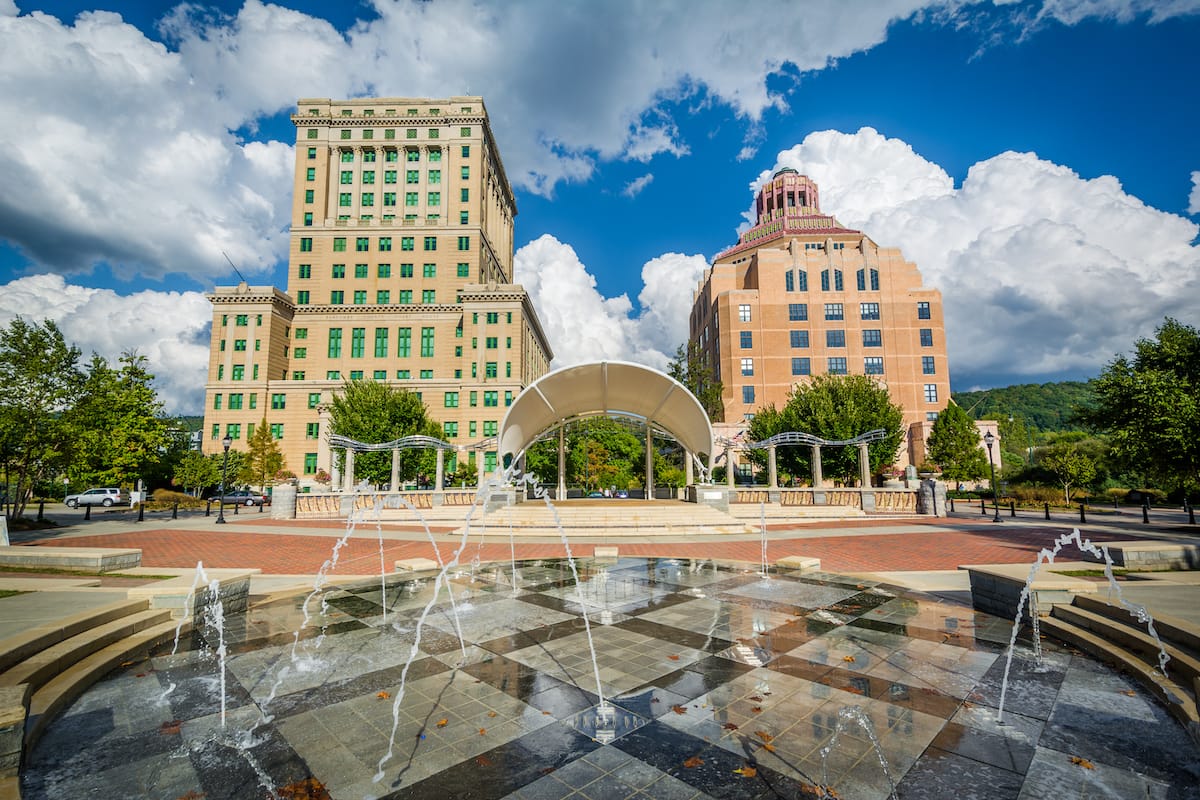 Best Things to Do in Asheville
Explore the River Arts District
River Arts District near Asheville and Biltmore was once an industrial zone with dilapidated warehouses and now it is a must-visit for any Asheville itinerary!
Growing out of necessity to have an open space for artists, the territory was reconstructed into a unique platform for art, creativity, and entertainment.
The industrial district has neat sidewalks, free parking, and over 200 artists happy to share experiences with visitors who can then buy the works.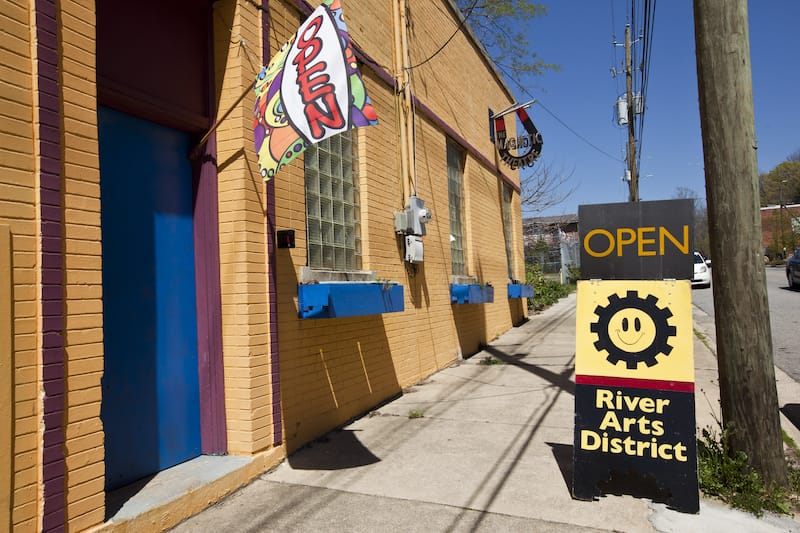 Located along the French Broad River, RAD is home to galleries, studios, restaurants, and the Wedge Brewing Company, a favorite hangout spot for residents. Grab a map with 25 buildings and art studios to quickly navigate the district.
Road Trip on the Blue Ridge Parkway
The trip on the Blue Ridge Parkway, stretching from Northern Virginia to the south of Shenandoah Valley, is one of the most attractive places abundant with beautiful views.
The 469 miles long Parkway runs along the Blue Ridge Mountains spine, part of the Appalachian Mountain range with popular towns and campgrounds of the region.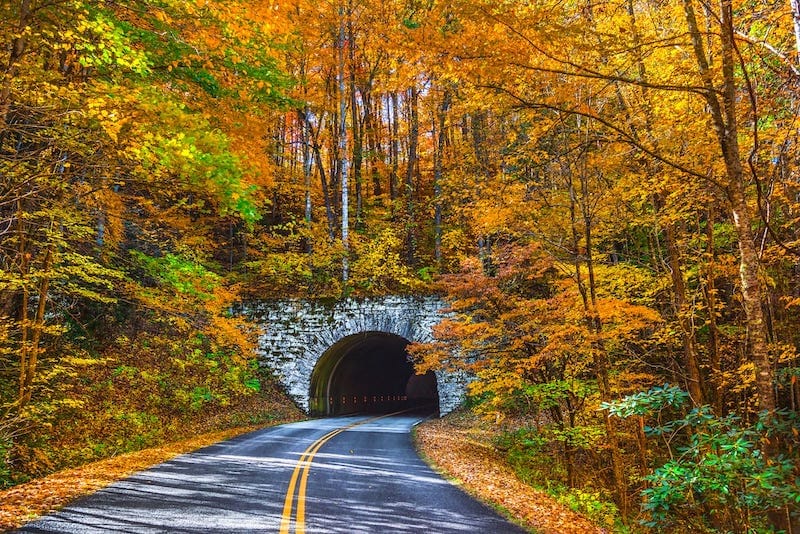 The standard parkway map includes mile markers, attractions, and visitor centers for safe drive because there are areas along the way with no cell service.
The Blue Ridge Parkway trip may last up to seven days, depending on your stops. The Parkway is visited all year round, presenting different experiences and natural beauty any time you see it. Nevertheless, the busiest season is summer, and Peak Week is fall.
Parkway basics:
>> Click here for rates and availability
North Carolina Arboretum
The North Carolina Arboretum, located in the Southern Appalachian Mountains, off the Blue Ridge Parkway and minutes from downtown Asheville features 434 acres of beautiful gardens and neat trails with some of the most spectacular and diverse plants in the region.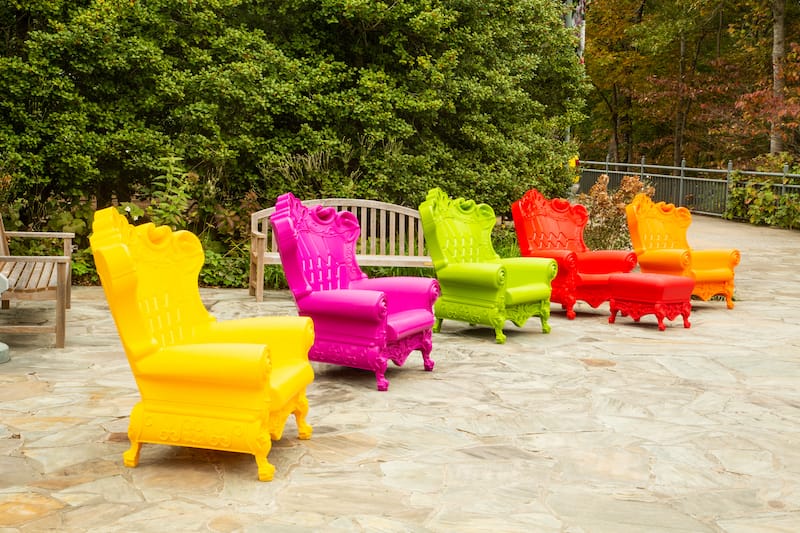 The public garden displays Bonsai Exhibition Garden, 10-miles of hiking and biking trails in the forest, seven garden areas, Rocky Cove railroad tour, art and cultural history exhibits, gift shop, and cafe.
Special events and exhibitions are organized throughout the year.
Daytime admission is free and a $16 parking fee applies for personal vehicles.
Asheville Night-Time Walking Ghost Tour
Looking for something extraordinary in Asheville? Welcome to the dark side of haunted Asheville, where ghosts are your guests.
The ghost walking tour through the streets of downtown Asheville will take you to the mystical places of the town filled with tragedy and pain.
The tour will tell you stories about the woman haunting the Omni Grove Park Inn, the body entombed in the St. Lawrence Basilica wall, and more details about Asheville's past that will give you goosebumps.
The tour lasts about 75 minutes, starting at Pack's Tavern in Downtown Asheville and includes eight spooky historical sights.
>> Click here for rates and availability
Check Out the Biltmore Estate
America's largest and the most grandiose Biltmore home resembles the French Renaissance architecture in the heart of the Blue Ridge Mountains.
Built-in 1890 as a summer home for George W. Vanderbilt, one of the wealthiest families in the United States, the estate features an authentic castle with 250 rooms, including 43 bathrooms, 65 fireplaces, 34 bedrooms, an indoor pool, 10,000-volume library, and more.
The entire territory occupies about 8000 acres with 75 acres of majestic gardens, the most-visited winery, four-star hotels, restaurants, and hiking trails.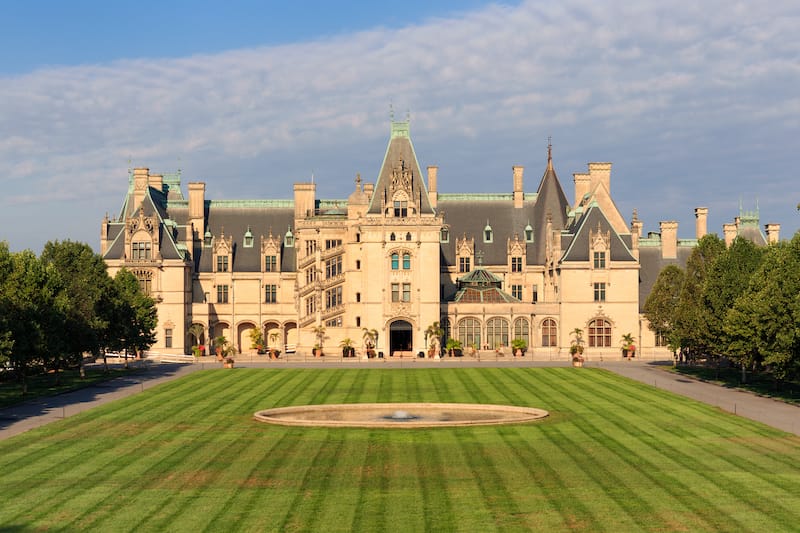 Start the tour of the Biltmore Estate with the Biltmore House to witness the luxury of the largest privately owned mansion that has an invaluable collection of antiques and art.
Get an audio companion tour to explore all the exciting stories about the house. Next, enjoy a walk about the thematic gardens of Biltmore with ponds.
Each of them is a true paradise with lush green plants and flowers. A longer stroll will take you to the Bass Pond, a secluded romantic place with wildflowers and azaleas.
Admission:
Biltmore Estate ticket cost is $60-85, depending on the day of the week and time of the year. Entrance for kids 9 and under is free.
Address: 1 Lodge St, Asheville, NC 28803
Visit the Folk Art Center
The Folk Art Center, located on the Blue Ridge Parkway, presents the Southern Highland Craft Guild, the crafts of artists from Southern Appalachia.
Displaying the works of over 300 artists, the Folk Art Center follows a consequential mission of cultivating craftsmanship of the Southern Highlands and helping generations value traditional crafts.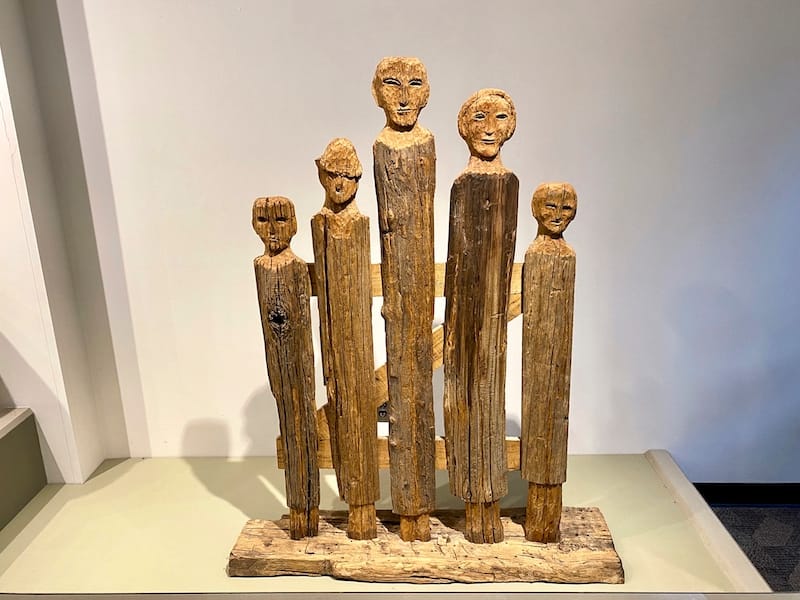 The Following Art Center hosts the Southern Highland Craft Guild's Allanstand Craft Shop operating over a century, three galleries with exhibitions, an auditorium, a library, and a bookstore.
The guests are welcomed to observe daily craft demonstrations, watch a series of educational events, shop souvenirs and original hand-crafted items from southern Appalachian crafters, and more.
The Folk Art Center is ADA compliant.
Address: 382 Blue Ridge Pkwy, Asheville, NC 28805
Learn at the Thomas Wolfe Memorial
Thomas Wolfe Memorial, also named "Old Kentucky Home," is the boardinghouse where famous novelist Thomas Wolfe spent his childhood.
During those days, health seekers patronized the house, who later inspired the novelist and became the characters in Look, Homeward, Angel.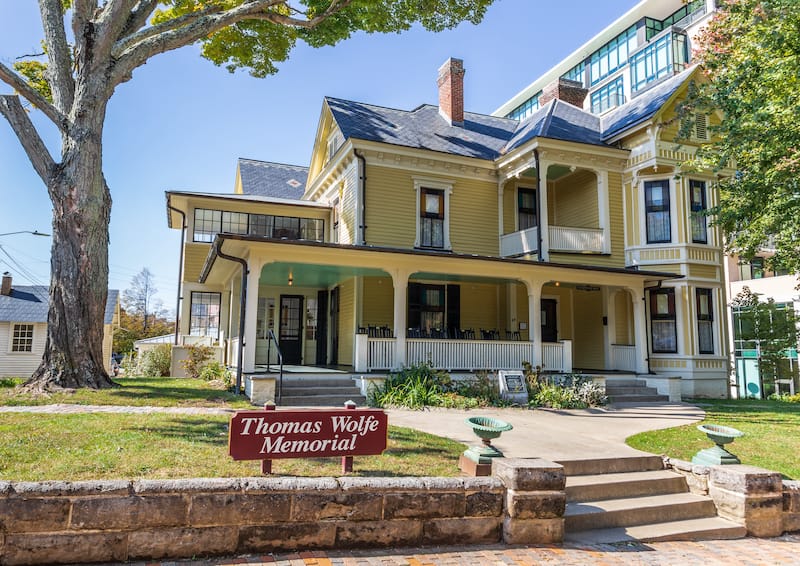 The tour about "Old Kentucky Home" will give a close look at the life of Asheville in the early 20th century and the rise of the town as a resort. The rambling Victorian structure is now a museum attracting visitors worldwide.
You will have a short film about Wolfe's life at the visitors center and then take a self-guided tour of the house with original furnishing.
Working hours:
Tuesday – Saturday 9 am – 5 pm
Sunday & Monday: CLOSED
Closed State Holidays
Admission:
Adult – $5.00
Student (ages 7-17) – $2.00
Adult Group (10+) – $2.50 each
Student Group – $2.00 each
6 and under – Free
Address: 52 N Market St, Asheville, NC 28801
Get Caffeinated at the Coffee Shops in Asheville
Are you a fan of coffee? Don't miss these top five best coffee shops in Asheville, where you will experience the local coffee flavor.
PennyCup Coffee Co
Combine your tour of the River Arts District with the aroma of PennyCup coffee, one of the best in Asheville. It has four locations across the town focusing on sustainable and green coffee.
Address: 362 Depot St, Asheville, NC 28801
Double D's Coffee & Desserts
A Double-decker red bus in the heart of downtown Asheville immediately captures attention, but when you feel the smell of fresh coffee, you can't miss it. Small tip: Double D's accepts cash only.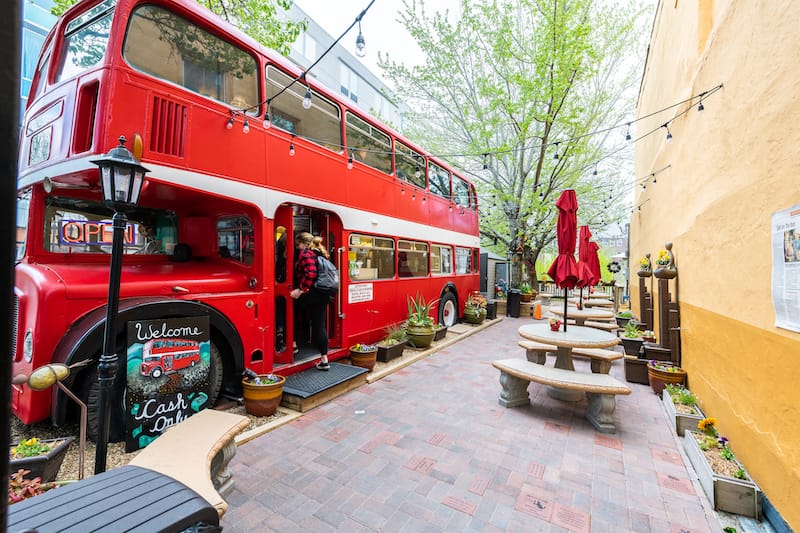 Address: 41 Biltmore Ave, Asheville, NC 28801
High Five Coffee
High Five Coffee is a classy coffee shop with multiple locations across Asheville, serving local Counter Culture Coffee.
Address: 13 Rankin Ave, Asheville, NC 28801
Odd's Cafe
The best place in West Asheville, Odd's Cafe in an old-garage style, welcomes guests with a friendly atmosphere, good coffee, and affordable prices.
Address: 800 Haywood Rd Suite A-110, Asheville, NC 28806
Shop at Grove Arcade
Grove Arcade architectural landmark is located on Battery Hill, the center of Downtown Asheville. Planned and created by Edwin Wiley Grove, the Arcade was meant to become the city's heart, and it did.
Since 1929, Grove Arcade has been considered one of the most elegant buildings in North Carolina.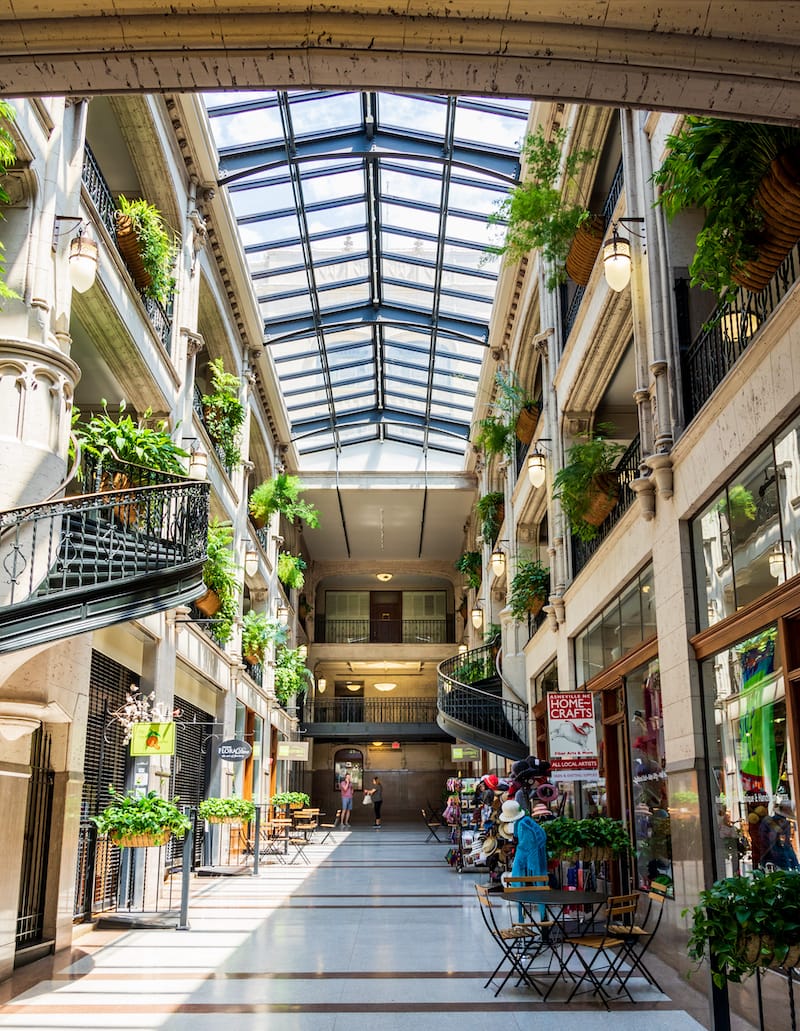 Today, Grove Arcade features dozens of galleries, restaurants, specialty shops of local art, fine gifts, and antiques. In Portico Market, farmers sell their homemade goods and local crafts.
Local restaurants have cozy sidewalk dining. The Grove Arcade transforms into a winter wonderland with holiday decorations and shops from November to January.
Address: 1 Page Ave, Asheville, NC 28801
Relax at the Wake Foot Sanctuary & Spa
Wake Foot Sanctuary is a wonderful place to relax and enjoy the foot soak and massage services.
The interior and colors immediately create the mood of tranquility while comfortably fitting in soft, deep chairs and enjoying foot massage in natural soap and salt foot soaks.
You can also choose to get a massage on the head, neck, shoulders, hands, and arms.
Wake Foot Sanctuary welcomes all guests with a cup of revitalizing hot tea or a cool sparkling beverage with cookies and chocolate to make your stay even more unforgettable.
Address: 1 Page Ave #115, Asheville, NC 28801
Visit Chai Pani for Indian Food
Who said Asheville could not give you some spices and flavors of far India? Chai Pani Indian street food is a popular venue in downtown Asheville with delicious and innovative Indian cuisine.
Translated as "tea and water," Chai Pani serves more than tea and water. Here you will find all the popular Indian dishes; daily thali specials, nimbu Pani, spicy chaat, and all your favorite names.
View this post on Instagram
Popular magazines The New York Times, GQ, and New York Magazine referred to the place, calling it a fresh Indian street food with a twang, a star in downtown's scene.
Address: 22 Battery Park Ave, Asheville, NC 28801
Enjoy Asheville Music Festivals
Asheville's cultural and musical life is a unique fusion of old-time traditions with contemporary motifs. Multiple music festivals are a significant part of life and worth witnessing.
Check your dates of visiting Asheville, and maybe you will be lucky to take part in one of the music festivals.
Downtown After 5
Asheville's spring and summer months are all about music festivals. Still, the most popular and definitely the most beloved one is Downtown After 5, a series of concerts taking place on the third Friday lasting from May to September.
The concerts are held at North Lexington Avenue. From 5 pm to 9 pm, guests enjoy good music, craft beer, and snacks sold in food trucks for four hours.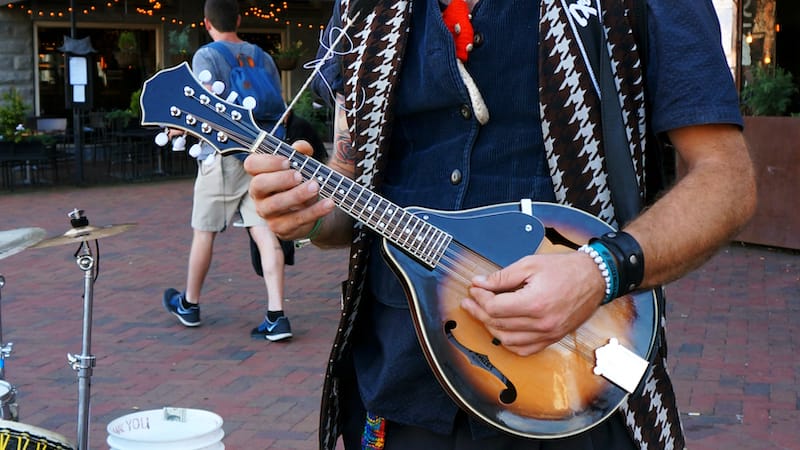 Asheville Electro-Music Festival
A more contemporary music festival gathering the lovers of alternative electro-music is held in May in the Black Mountains. Asheville Electro-Music Festival showcases a line of electronic and experimental music of local artists accompanied by visual shows.
Biltmore Concert Series
Summer at Biltmore is full of live concerts and music. Every evening the South Terrace at Biltmore revives under the beats of music, star-studded shows performed by local artists on the backdrop of the Blue Ridge Mountain.
See Works at the Grovewood Gallery
Grovewood Village is one of the hidden gems of Asheville with rich history and art. The picturesque campus is located behind the Omni Grove Park Inn, which was once used for weaving woodworking operations of Biltmore Industries.
Grovewood Gallery, part of the Grovewood Village occupying over 11-acre territory, is listed on the National Register of Historic Places and presents a unique assembly of artist studios, the Estate-Winn Antique Car Museum, and the Biltmore Industries Homespun Museum.
Grovewood Gallery present's the region's most refined and richest craft galleries exhibiting works of over 400 artists across the country. The second floor impresses with American-made studio furniture and an exclusive lighting collection.
Working hours:
Every day from 10 am to 5 pm
Admission:
The entrance and parking on the territory are free.
Enjoy Asheville Craft Beer and Breweries
Asheville's brewing history is short but filled with events. It all began in 1994 with the opening of the Highland Brewing Company.
Shortly, Asheville was recognized as the first Beer City in the United States in 2009 and continued winning the title over the years.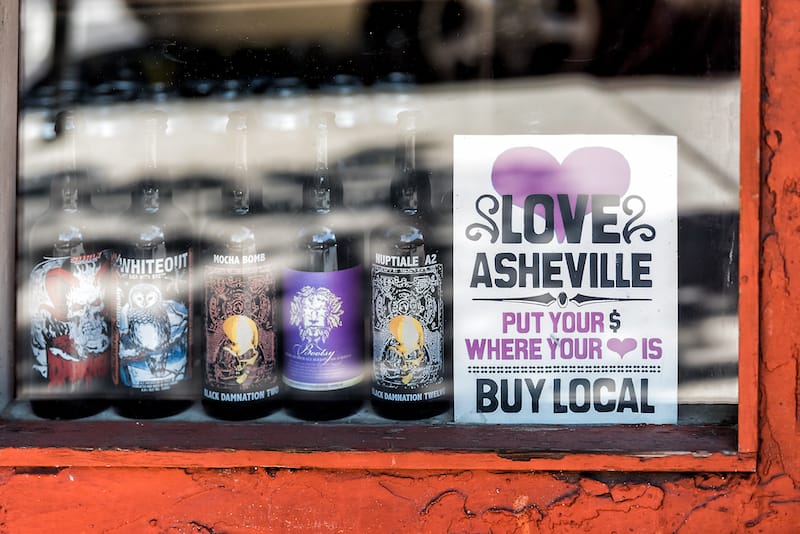 Today there are dozens of popular breweries in Asheville welcoming guests with craft beer and snacks. The following top 3 Asheville craft beers listed are worth being part of your must-visit list.
Burial Beer Co.
In short, Burial Beer Co., or one of North Carolina's best breweries, is known not only for quality beer but also for spooky beer names like "The Shattered Remains of Nothingness." No less impressive are the venues located in the South Slope district.
Address: 40 Collier Ave, Asheville, NC 28801
Cellarest Beer Project
A relatively new but popular name in Asheville's brewing history, Cellarest Beer Project offers three types of wood for fermentation, lagering, and aging. That is why the delicate notes of beer differ. It is worth trying Tether, a farmhouse ale.
Address: 395 Haywood Rd, Asheville, NC 28806
Archetype Brewing
The company, founded in 2017, follows the traditions of brewing crafted Belgian beer mixed with American notes.
The best thing about the brewing company is a cozy venue at 174 Broadway with brick walls and hardwood floors to relax after a downtown walk and enjoy craft beer.
Address: 265 Haywood Rd, Asheville, NC 28806
Discover the Asheville Museum Of Science
The Asheville Museum of Science is a small learning center with interactive exhibits and educational programs for kids and adults.
Located in Downtown Asheville, the Colburn Hall of Minerals in the museum displays rare minerals found on the territory of North Caroline such as quartz, kyanite, beryl, bending rock, and other unique exhibits from around the world.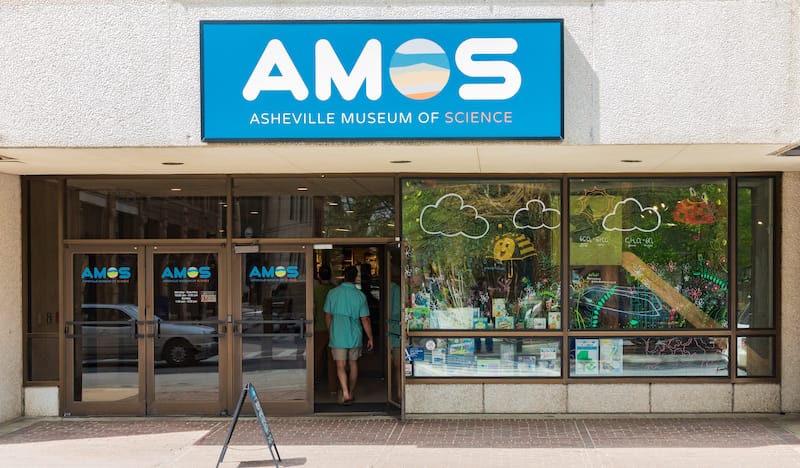 You will also see the Teratophoneus dinosaur skeleton, watch geographic processes like plate tectonics, volcanoes, and earthquakes, dig for fossils, and so much more exciting things to do and to try in the museum.
Address: 43 Patton Ave, Asheville, NC 28801
Working hours:
Monday 10 am – 5 pm
Wednesday – Saturday 10 am-5 pm
Sunday 1 pm – 5 pm
Tuesdays closed
Admission:
Adult: $8 per person
Children: Seniors: Military: Students w/ID: $7 per person
Ages 2 and under are free
Kindly note: no food or beverage is allowed on the territory of the museum except for lidded bottles of water.
Take an Asheville Downtown Walking Tour
A stroll through downtown Asheville, the heart of the town and historical center, is the best thing to get acquainted with the town's culture. If you love art and architecture, you will simply fall in love with the town.
The 1.7-mile Asheville Urban Trail with 30 stops will take you through the streets where George Vanderbilt, Thomas Wolfe, F. Scott Fitzgerald, and other historical figures used to stroll.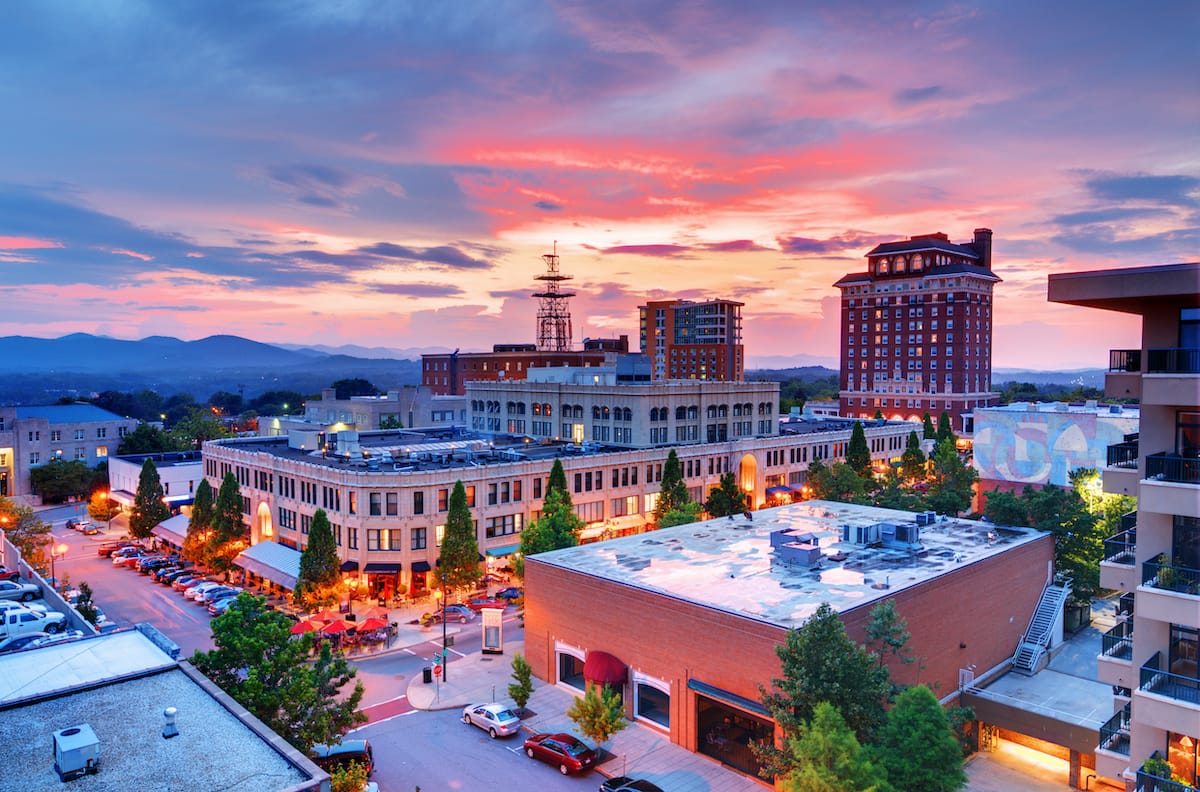 The trail can be walked in an hour, but you will probably end up spending a whole day enjoying historical corners, little restaurants, breweries, and coffee shops.
The tour usually starts at Pack Place on Asheville's Pack Square, but the tour is self-guided so that you can start anywhere you want.
>> Click here for rates and availability
Get Lost in the Botanical Gardens in Asheville
If you are looking for a beautiful secluded spot for leisure, Botanical Gardens at Asheville can become your perfect escape from the city fuss.
The 10-acre non-profit independent botanical garden is located at the Asheville's University of North Carolina, two miles from downtown.
You will find collections of about 600 species of plants native to the Southern Appalachian Mountains with about 600 species of wildflowers, trees, vines, sedges, aquatic plants, mosses, lichens, and more.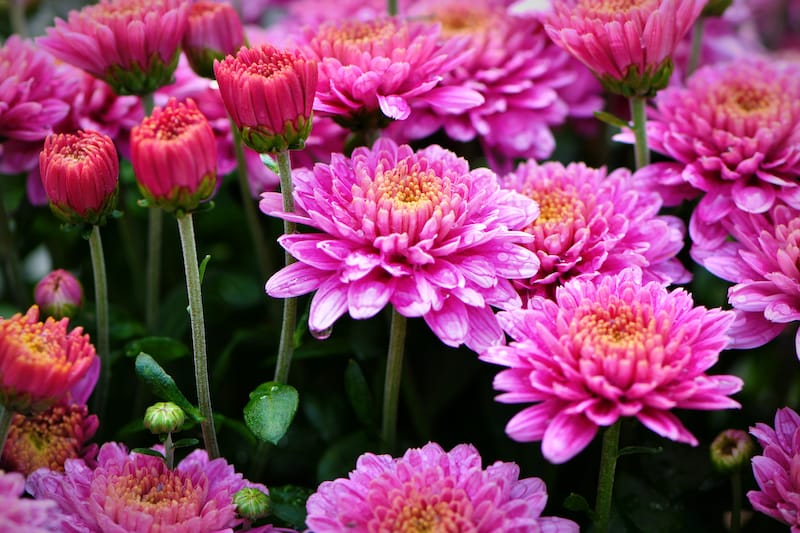 A walking trail makes a half-mile loop crossing bridges, streams, and woodland ridge. The garden is beautiful in summer and fall, with different seasonal plants growing.
There is a Visitor Center with a Garden Path gift shop at the entrance.
The entrance is free.
Address: 151 W T. Weaver Boulevard, Asheville, NC 28804
Take a Day Trip to Pisgah National Forest
The Pisgah (pronounced PIZ-guh) National Forest is a gem of Asheville with high peaks, forest-covered slopes, and waterfalls occupying over 500.000 acres.
The nearest access point to Pisgah is ten minutes from downtown Asheville. The territory is a popular destination for hiking and camping, with miles of diverse trails crossing the Pisgah National Forest.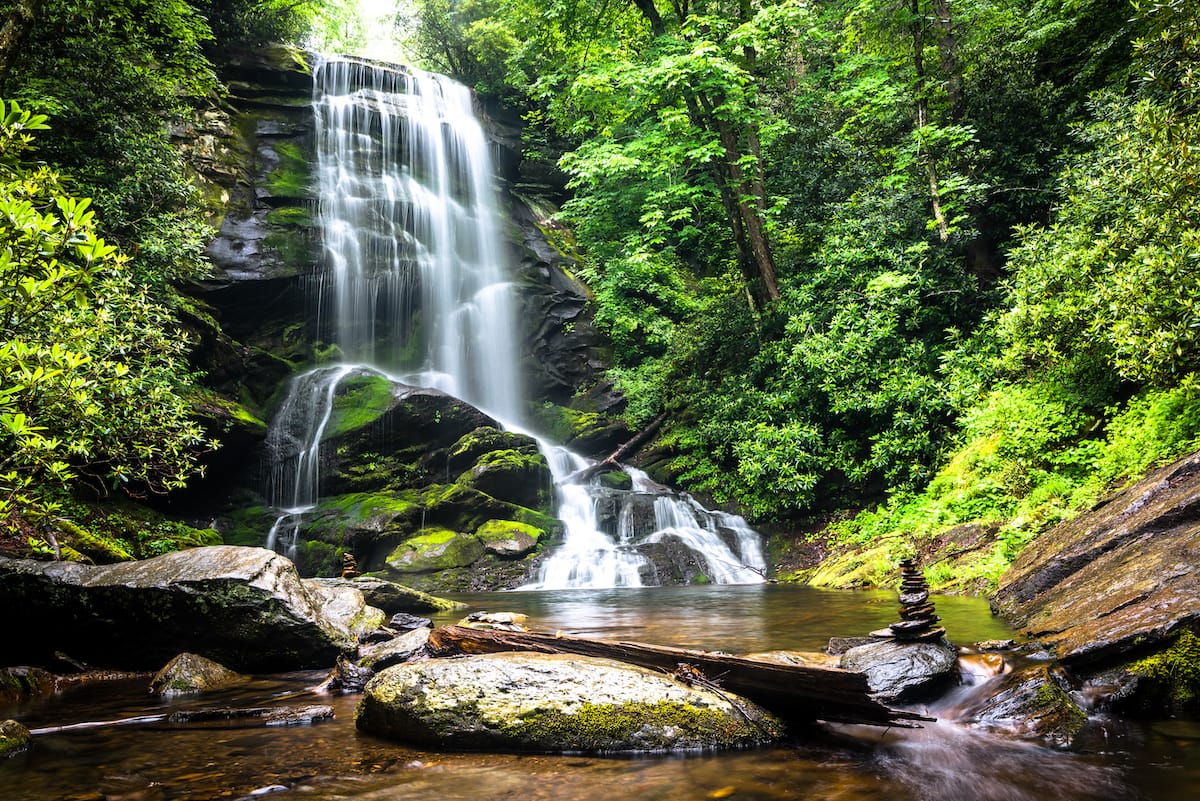 The forest is divided into three Ranger Districts; the Pisgah Ranger District on the south of Asheville, the Blue Ridge Parkway; the Appalachian Ranger District along the North Carolina; and the Grandfather Ranger District to the Linville Gorge.
Besides hiking, rock climbing, biking, and picnicking dare to slide down the 60-foot Sliding Rock to a natural swimming pool, watch the Looking Glass Rock on 1700 feet, and enjoy the beauty of untouched nature in Cold Mountain.
This is one of my favorite day trips from Asheville, hands down!
Take a Kayak Tour on the French Broad River
Asheville is not only a historical and cultural experience about downtown or hiking in the national park. It is an extreme rush down the French Broad River on kayaks to experience Asheville waterways.
Before kayaking on the river, guests are instructed and trained with the basics of Watersport to make you feel confident when boating.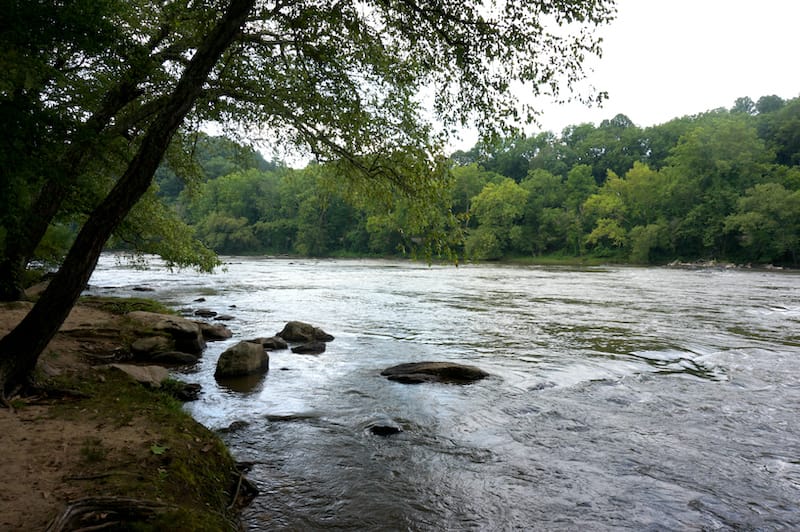 The tour of the French Broad River lasts 2.5 hours, full of beautiful views while sailing a kayak. The price of a ticket per person starts from $65.
>> Click here for rates and availability
Sign Up for One of Asheville's Food Tours
Asheville Food Tours may compete with any cultural tour about downtown because it includes all the gastro centers and the must-try Asheville dishes.
Guests are welcomed to the best restaurants and cafes to test local food and enjoy Asheville from a different perspective.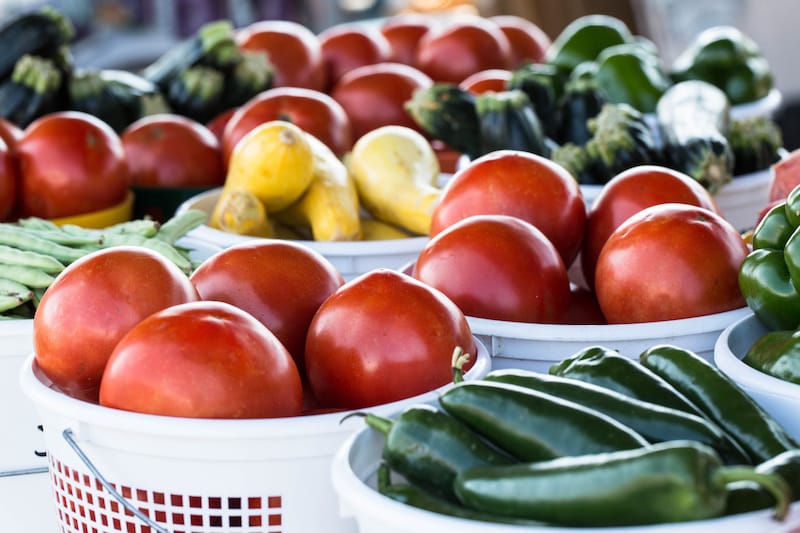 It will be a 2-3 mile long stroll with six stops with a myriad of dishes and stories about the town.
You will taste ethnic appetizers, meat and cheese assortments, handmade chocolates, beer and wine lists, and many more tempting names.
Indulge at Curate Bar de Tapas
Designed to provide unparalleled access to Spanish culture, Cúrate is a collection of restaurants, an online marketplace, and a culinary journeys platform.
The nationally acclaimed flagship, established in 2011 by husband and wife team Katie Button and Felix Meana, Cúrate Bar de Tapas, shares Spain's flavors and culinary traditions with guests.
Throughout the years, the company has grown and today includes La Bodega by Cúrate, a Spanish market and wine bar; Curate Trips with the finest Portuguese, Spanish, and Moroccan wine and food; Curate at Home and Curate Spanish Wine Club.
This is one of the best restaurants in Asheville and is a must for all itineraries!
Address: 13 Biltmore Ave, Asheville, NC 28801
Opening hours:
Monday closed
Tuesday-Thursday 4 pm – 10:30 pm
Friday 4 pm – 11 pm
Saturday 11 am -11 pm
Sunday 4-10:30 pm
Go Foraging with No Taste Like Home
Tired of restaurants and cafes? Take a tour with No Taste Like Home, and you will have a bunch of impressions. No Taste Like Home is the first wild food and foraging tour company operating since 1995.
The tour offers seasonal foraging walks into the wild, where you can explore more than 300 species of wild edibles.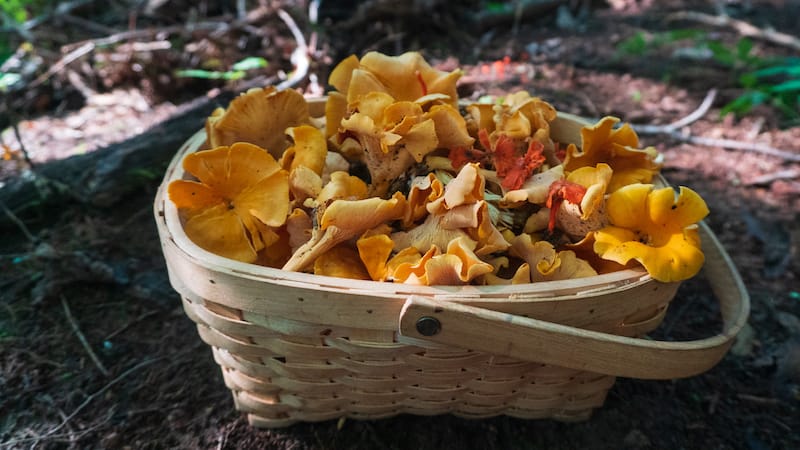 The expert guides will lead you through fields and forests, searching for mushrooms, wild fruit, berries, wood nettle, and more.
A 90-minute food walk is held in the Omni Park Grove Inn. The more extended 3-hour tour will take you to the Blue Ridge area.
Tours are organized in rain and sun, so guests are advised to be prepared.
Visit the Moogseum
Moogseum is an original place, a museum dedicated to the legacy of Bob Moog, an American engineer best known for electronic music and synthesizer.
Bob Moog and Moog Music company revolutionized traditional synthesizers and made them smaller and more affordable.
The museum was created after his death in 2006 to present his legacy and work to the public, honor the talent and creativity that blended music, science, and innovation.
Moogseum occupies 1400 square foot territory storing archival items of Bob Moog's life and work. The museum is open daily from 11 am to 5 pm.
Address: 56 Broadway Street Front, Asheville, NC 28801
Admission:
Adults $8.50
Children 7 and under is free
Enjoy Tasty Flavors at 12 Bones Smokehouse
Ask anyone about 12 Bones, and they will describe this place in all the flavors. The smokehouse offers the best barbecue in the town, pulled pork, beef briskets, and slow-smoked baby back ribs with signature sauces.
Meat dishes are served with stellar sides; collards, jalapeño cheese grits, and mashed sweet potato.
12 Bones is also vegetarian-friendly, offering a plate of four sides and a hunk of cornbread. It is strongly advised to try their craft beer as a perfect complement to meat dishes.
Address: 5 Foundy St Ste 10, Asheville, NC 28801
Working hours:
Monday – Friday 11:30 am – 4:30 pm
Closed Saturday and Sunday
Get Spiritual at the Basilica of Saint Lawrence
Built in 1909 by Rafael Gustavino and Richard Sharpe Smith in Spanish Renaissance Revival style, the Basilica of St. Lawrence D.M is the most important spiritual anchor and architectural treasure in Asheville, with the largest freestanding elliptical dome in the country.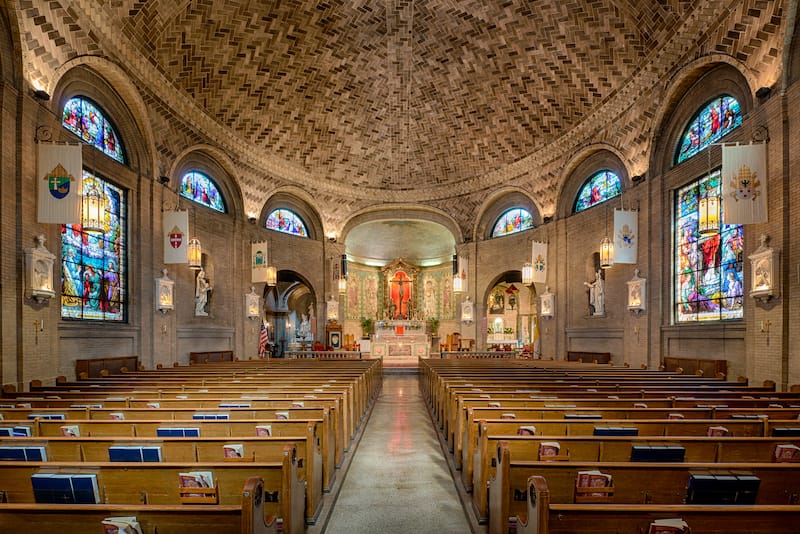 The Catholic Church is located in downtown Asheville and is open daily from 7:30 am to 5 pm. The Basilica of St. Lawrence D.M heads daily masses, virtual masses, and self-guided tours available in the side vestibule.
Address: 97 Haywood St, Asheville, NC 28801
Spook Yourself at Helen's Bridge
Helen's Bridge is one of the mysterious and haunted places in Asheville. Constructed in 1909, it connected the Zealandia Mansion to the road to Asheville.
The bridge was named after Helen, who lived with her infant daughter in Asheville. She lost her child in a fire and couldn't bear the pain of her loss. Helen hung herself from one of the steel posts.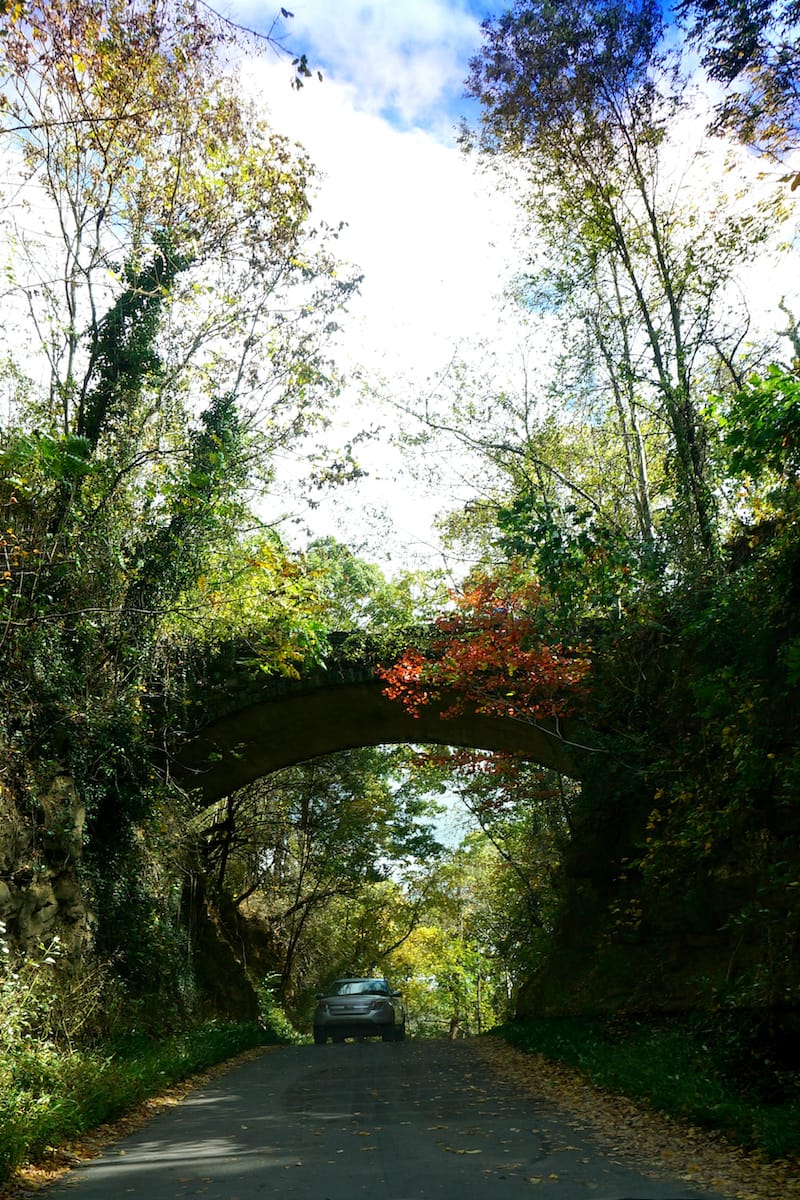 Today, Helen's Bridge is a popular spot for paranormal investigations believing that Helen's ghost is still strolling in the woods. Dare to visit Helen's Bridge at night and maybe you will see Helen on the bridge.
Visit the Asheville Pinball Museum
Asheville is a unique place for time travels into past centuries and past decades where you can even touch the history.
The Pinball Museum, located in downtown Asheville, displays an original collection of 75 vintage pinball machines you can touch and even play with.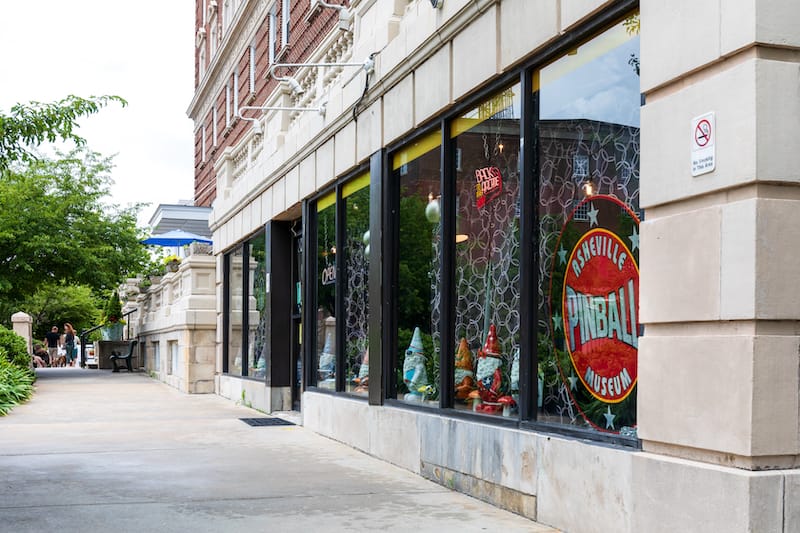 Just like you were used to playing pinball and video games in cafes, Asheville Pinball Museum recreates the whole atmosphere offering snacks, soda, and beer to make your experience more realistic.
The "display only" machines are older versions, the first pinball machines, that are true treasures from the 1930s.
Address: 1 Battle Square Ste 1b, Asheville, NC 28801
Opening hours:
Admission with unlimited all-day gameplay
Adults – $15
Kids 10 and under – $12
Where to Stay in Asheville
You will find plenty of cool places to stay in Asheville – here are a few of our favorites, including staying at the most iconic place in Asheville:
Did we miss any of the best things to do in Asheville? Let us know your favorite Asheville attractions in the comments. Thanks!
More NC and Asheville Travel Guides
Pin this Asheville Things to Do Guide