There are so many fantastic places to visit in Virginia. These are some of the best small towns in Virginia – ranging from small coastal towns to ones nestled in the mountains.
We have selected Virginia small towns that cover different areas of the state and they are all ones I have personally been to and truly loved! I have eaten seafood in Onancock and rode along the Virginia Creeper Trail in Abingdon.
Did we miss any cute towns in VA? Let us know in the comments! Thanks!
Best Small Towns in Virginia
Cape Charles
The small and charming Cape Charles is a town located on the Chesapeake Bay in Northampton County and was founded in 1884. It is on VA's Eastern Shore and is one of the best beach towns in Virginia.
It feels like you're traveling back in time when you visit Cape Charles and you'll be instantly transplanted back to the 1880s when the railroad and ferry industries were booming.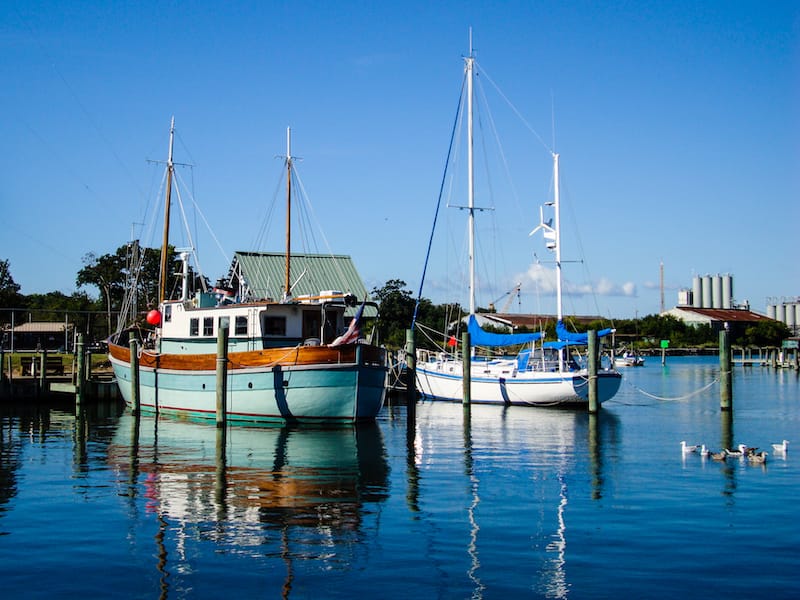 Cape Charles is teeming with many 19th-century, traditional homes and cottages… you can even rent one if you're looking for accommodation in Cape Charles and stay in one right on the bay.
Aside from top-notch accommodation and serene views, there are several things to do in Cape Charles, such as visiting the Cape Charles Museum and Welcome Center where you can take in the history of the town, see historical engines, and more.
There are also golf courses, state parks, swimming, and many other opportunities nearby. Cape Charles is one of my favorite small towns in Virginia!
Chincoteague
Also located on Virginia's Eastern Shore, Chincoteague is a fairly well-known town in VA but it is truly one of the rarest and coolest places in the state. A small port town, it is most famous for the Chincoteague National Wildlife Refuge… and wild ponies!
Assateague Island National Seashore, close to Chincoteague Island and shared with Maryland, is a fantastic place to experience undeveloped beaches and wild horses.
This area used to be super famous for its oyster industry and you can still find remnants of that today – be sure to visit the Museum of Chincoteague Island to learn more.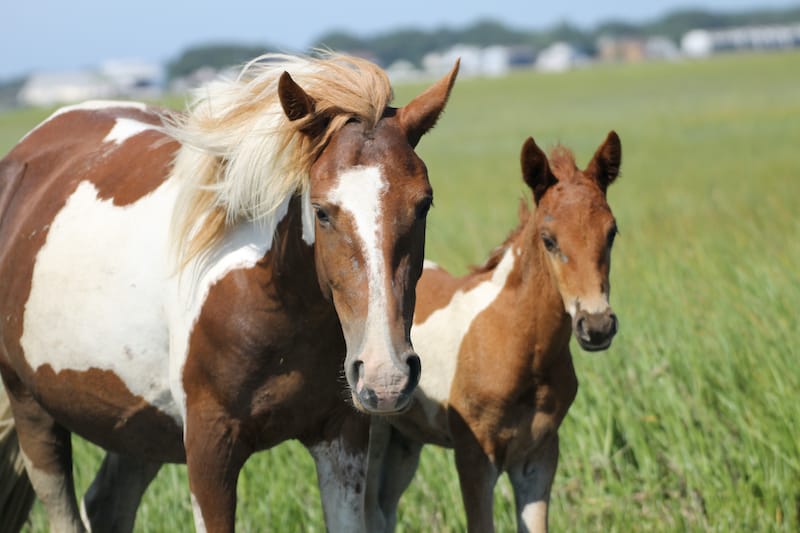 Some other things that make Chincoteague famous are the Assateague Lighthouse, one of the most beautiful lighthouses in Virginia as well as the Wallops Flight Facility Visitor's Center.
There are also cozy cafes, restaurants, and much more. You can find some great places to stay in Chincoteague for affordable prices, too. This is one of the best weekend getaways in Virginia.
Woodstock
Not to be confused with Woodstock, New York where the famous festival took place, Woodstock, Virginia is a charming small town in Virginia located in Shenandoah County.
While it is not as well-known as other towns in the area, it is located by the beautiful Shenandoah National Park and on the North Fork of the Shenandoah River.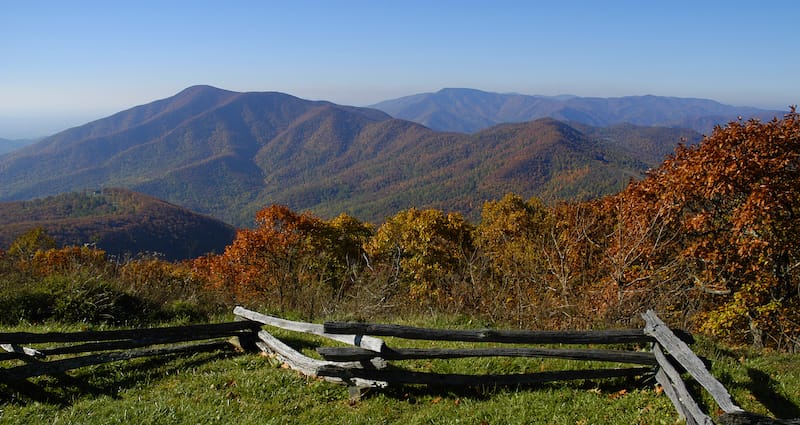 One of the town's main attractions is the Woodstock Museum of Shenandoah County where you can see exhibits dating back to the 18th-century. It is located in downtown Woodstock and is a can't-miss place!
In addition, Woodstock has some of the best wineries near Shenandoah National Park! Be sure to check out North Mountain Vineyard and Winery to taste some delicious local wines.
If you're into nature and hiking, be sure to head to Seven Bends State Park where you can walk the trails, kayak, and swim in the small lake.
Warrenton
Located in Fauquier County, the Virginia town of Warrenton is well-known as being the state's 'horse country. It hosted the first Virginia Gold Cup Race in 1922.
Warrenton was founded in 1810 and is known for being a great place for business – it is also home to several amazing cafes and restaurants.
One of the most famous places to visit in Warrenton is the 1959 statue of Chief Justice John Marshall which is located to the left of the old courthouse.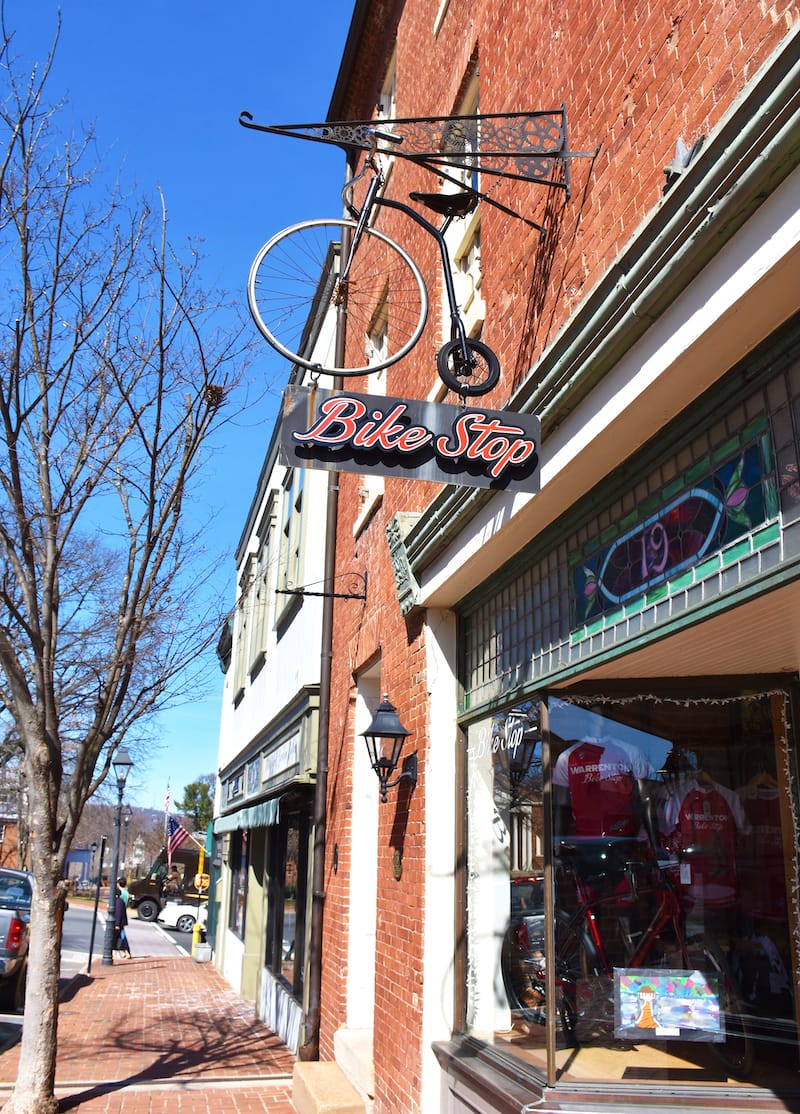 Another fantastic thing to do in Warrenton is to check out the historical 1808 Fauquier History Museum at the Old Jail, Brentmoor (the house of John Singleton Mosby – a Confederate military commander), and the Mediterranean Cellars where you can enjoy local wines and more!
Onancock
Another great place to visit on the Eastern Shore of Virginia is the small town of Onancock. This fishing town in Accomack County is located on the South Branch Onancock Creek and traces its roots back to 1680.
During the 1600s, John Smith named Onancock the 'Gem of the Eastern Shore' and it is known as a paradise for budget travelers these days. You can also take several boat cruises from there and view the town's historic buildings, churches, and more.
Another attraction in Onancock worth visiting is the Roseland Theater where you can watch a live show. The Eastern Shore of Virginia Historical Society is another place worth visiting if you're curious about the area's history.
If you're into water sports, you can embark on some amazing kayaking adventures to Tobacco Island.
Abingdon
Located in Southwestern Virginia in Washington County, Abingdon is home to several historical landmarks and natural sights.
One of the most popular things to do in Abingdon is to visit the Martha Washington Inn & Spa that has been in operation since 1832 – you can stay there or simply take a tour of the place. The Barter Theatre is also another place worth checking out in the town. It boasts 160,000 + annual visitors and has been in operation since 1832.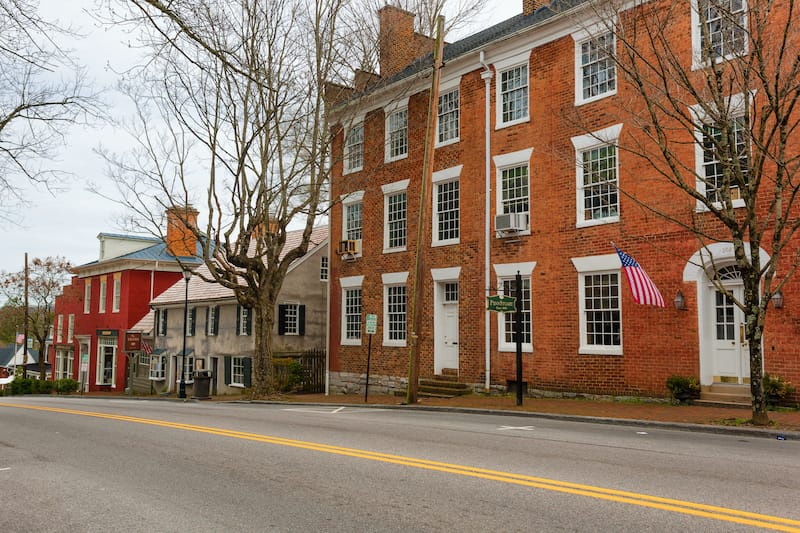 Some of the popular nature activities are to take a ride on one of Virginia's most famous bike trails, the Virginia Creeper Trail. It is a rail-to-trail that passes through abandoned railroads from the 1970s, green forests, and more.
One of the most beautiful state parks in Virginia is Grayson Highlands State Park and it is also located nearby. It has plenty of camping and hiking trails. Be sure to take a stroll on Abingdon's historic Main Street, an 18th-century, 20-block historic district.
Abingdon is one of my favorite small towns in Virginia!
Farmville
Home to famous universities like Hampden-Sydney College and Longwood University, Farmville is located in Prince Edward and Cumberland Counties, only 65 miles away from the city of Richmond. It is one of the best day trips from Richmond!
The small, chilled-out town is also known for historical sites like High Bridge Trail State Park and Sailor's Creek Battlefield Historical State Park where the last two battles of the Civil War took place.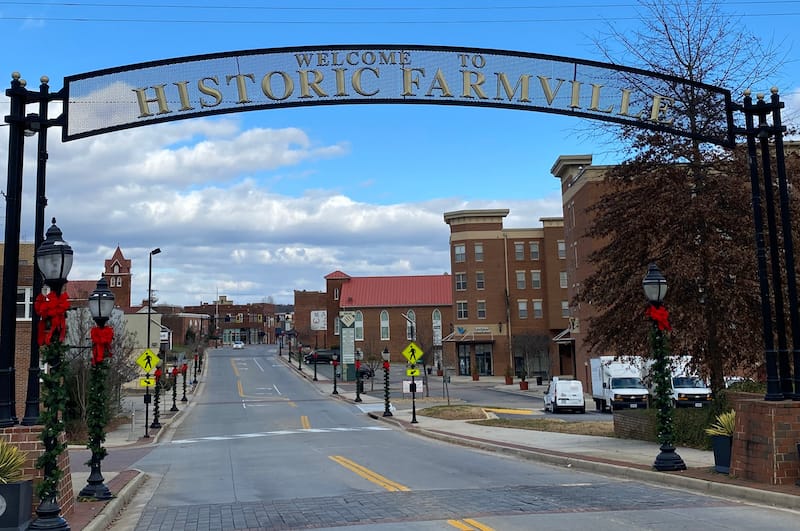 It is also home to the R.R. Moton Museum, which is dedicated to the students from 1951 who went on strike in support of igniting Civil Rights.
It's a great family vacation area where you can kayak in the lakes and rivers, go camping, golfing, zip-lining, fishing, hiking on nearby trails, and picnic in beautiful parks after exploring the town.
Kilmarnock
With a population of approximately 1,500 people, Kilmarnock is a small town located in Lancaster and Northumberland Counties in Virginia near the Rappahannock River.
The small Virginia town is also located near Westmoreland State Park and the birthplace of George Washington. Surprisingly, this area has a nice little wine scene!
Known for its serene atmosphere, the town has a quaint shopping and dining area downtown and during the 17th-century, the town was known as 'The Crossroads'.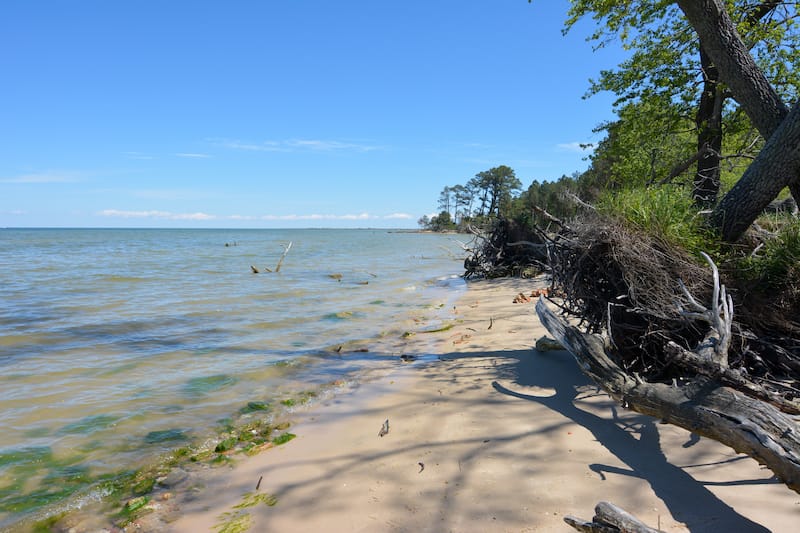 One of the most popular places to visit in Kilmarnock is the Kilmarnock Town Centre Park which has an open stage for concerts, an open-air gym, and colorful gardens.
Some other popular things to do in Kilmarnock are to visit the 18th-century Christ Church & Museum and the Lancaster Historical Society. You can also go hiking on the Hughlett Point Trail which is not too far from the beach and the town.
Leesburg
Founded in 1740, the town of Leesburg is located in Loudoun County and was, contrary to popular belief, was not named for the Confederate General of the same name. It is one of the most beautiful small towns in VA!
Leesburg is known for having a well-preserved and charming historical district downtown that has been included in the National Register of Historic Places since 1970.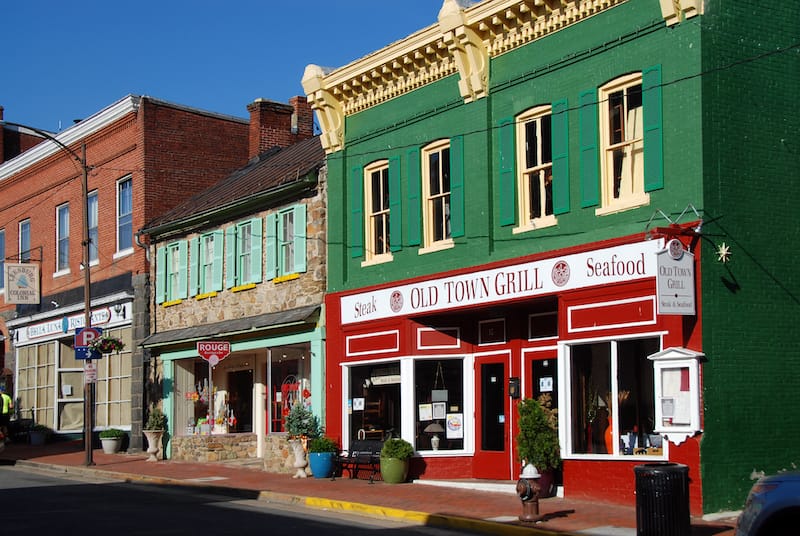 There are plenty of significant (and fun) landmarks in Leesburg like the Shocktober Haunted House, Ida Lee Park Recreation Center, Stone Tower Winery, and the famous Ball's Bluff Battlefield Regional Park. This is one of the best small towns in Northern Virginia to pay a visit to!
Occoquan
Located in Prince William County, the town of Occoquan is a suburb of Washington DC and is located near Woodbridge. It is one of the cutest small towns in Virginia!
The name literally translates from Algonquian Doeg as 'at the end of the water' as it is situated along the Occoquan River. It has a deep-rooted Native history and has survived throughout the years despite fires, the Civil War, and more.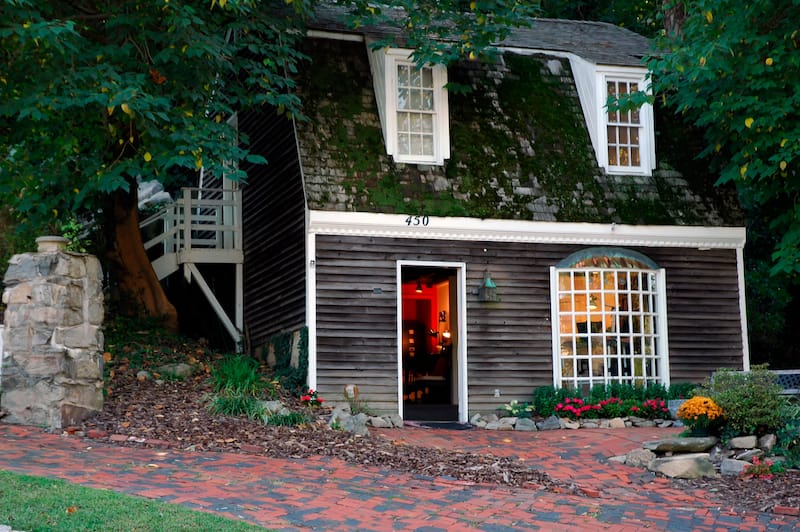 Today, the town of Occoquan is known for its historical center, ghost walks and historical tours, and its artistic community.
Some of the best things to do in Occoquan (and nearby) are to visit the River Mill Park, Mamie Davis Park, the free kayak launch ramp, Occoquan Regional Park, Fountainhead Regional Park, Mason Neck State Park, the Mill House Museum, and more.
Smithfield
A small town located in Isle of Wight County Virginia is Smithfield, Virginia. While people from out-of-state may not know Smithfield, they do know Virginia Ham or Smithfield Ham and that is one of the things that the town is famous for!
Smithfield was first colonized in 1634 and is situated just south of Jamestown and it sits on the Pagan River. The Natives called this land Warascoyak which meant 'point of land'.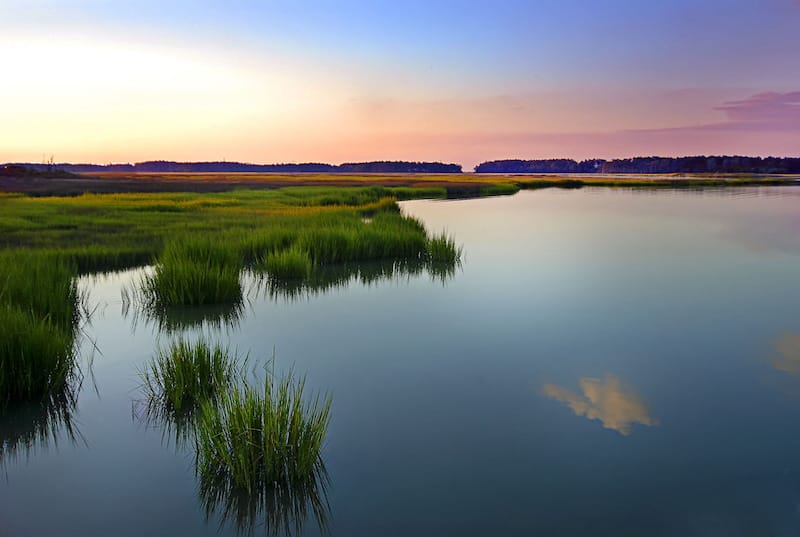 Some of the historical things to do in Smithfield are to visit Wharf Hill, the Mansion on Main, and St. Luke's Church. And, of course, be sure to try out some of the famous Smithfield ham and peanuts when you visit!
Wytheville
One of southwestern Virginia's more adorable towns is Wytheville, located in Wythe County. Named after one of the signers of the Declaration of Independence, George Wythe, the town has just over 8,000 people and is known for being a crossroads for travelers.
Throughout the Civil War, Wytheville was attacked on multiple occasions. Some of the prominent sights in Wytheville are the Wythe County Poorhouse Farm, Wytheville Historic District, Haller-Gibboney Rock House, Crockett's Cove Presbyterian Church, and more.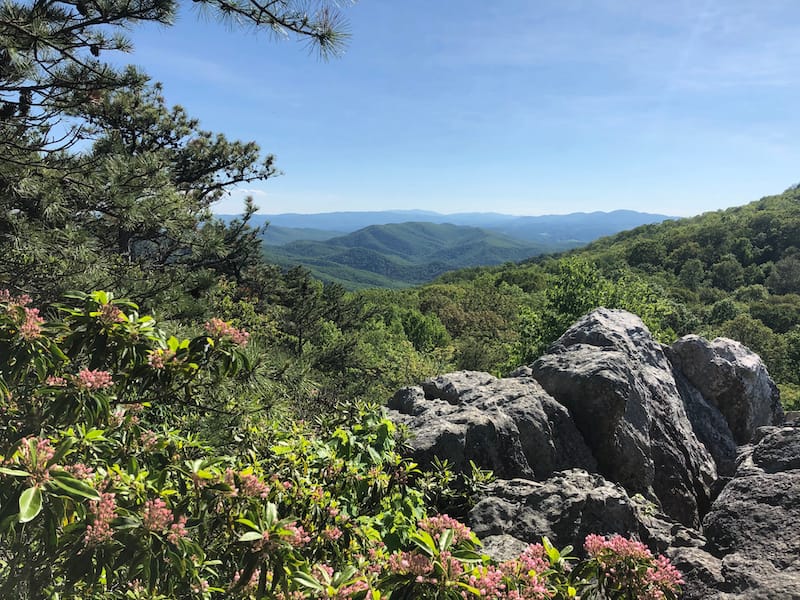 In addition, the town of Wytheville is home to the Chautauqua Festival that is held annually every June. It has been going on since 1985 and has live concerts, arts and crafts, hot air ballooning, and more. It is held at Elizabeth Brown Memorial Park.
Wytheville is one of the best weekend trips from Richmond and Charlotte and many other places!
Middleburg
Middleburg is a popular town in Virginia that is located in Loudoun County. It is small and has a population of merely 800 or so people. It was known traditionally as the US Horse and Hunt Capital as it played an active role in steeplechases, foxhunting, and had large estates.
In addition, the Middleburg Historic District, dating back to the 19th-century, is on the National Register of Historic Places.
Established in 1787, the town is extremely charming and one of the best ones to visit in the state. It even is home to the oldest inn in the US – the Red Fox Inn & Tavern (formerly known as Chinn's Ordinary) which has been in operation since 1728.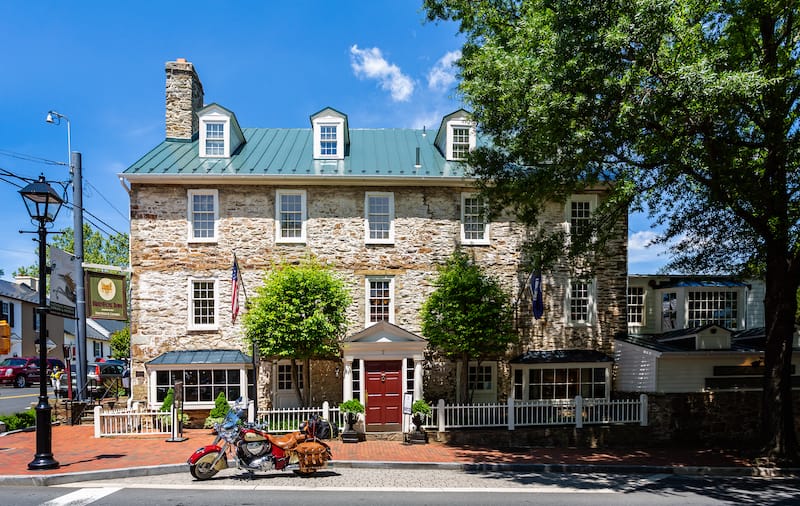 Some other places that are worthy of visiting in Middleburg are the Green Pastures, Welbourne, Burrland Farm Historic District, the Mill House, and more.
Culpeper
Declared the 'prettiest town in Virginia' by Architectural Digest, the town of Culpeper surely deserves the title! It is the only incorporated town in Culpeper County and has a growing population and has since the 1980s when it was considered to be a 'bedroom' community for Northern Virginia and the DC area.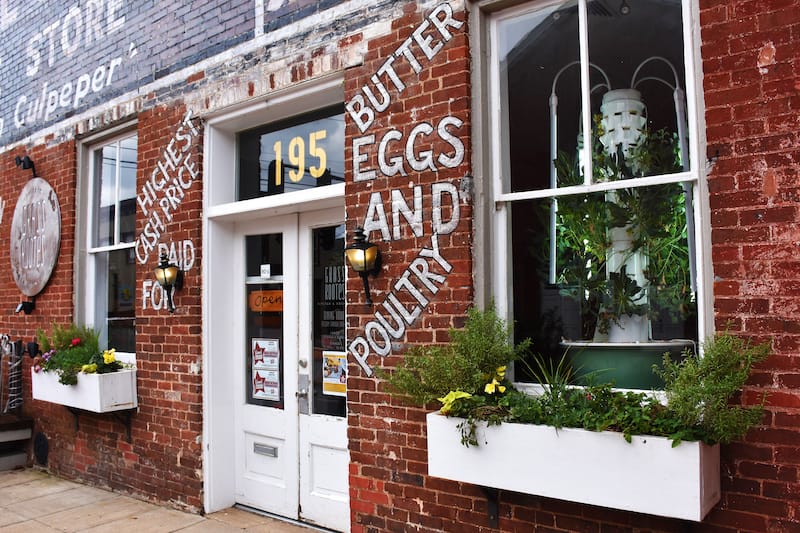 There are many things to do in Culpeper, such as visiting the National Audio-Visual Conservation Center, the downtown Culpeper Theatre, and more.
South Boston
Another fabulous town in Virginia is South Boston, located in south-central Virginia. Situated in Halifax County, it has around 8,000 residents and was, naturally, named for Boston, MA.
Some of the main attractions in South Boston are E.L. Evans House, Reedy Creek Site, South Boston Historic District, and more. The aforementioned sights are all listed on the National Register of Historic Places.
The Virginia town used to be home to the National Tobacco Festival but it was later moved to Richmond until 1984 when it stopped due to low interest and rising production costs. Until the Great Depression, the town of South Boston was the US' second-largest tobacco producer.
What are the best small towns in Virginia that we missed on the list? Let us know in the comments! Thanks!
Pin this Virginia Small Towns Guide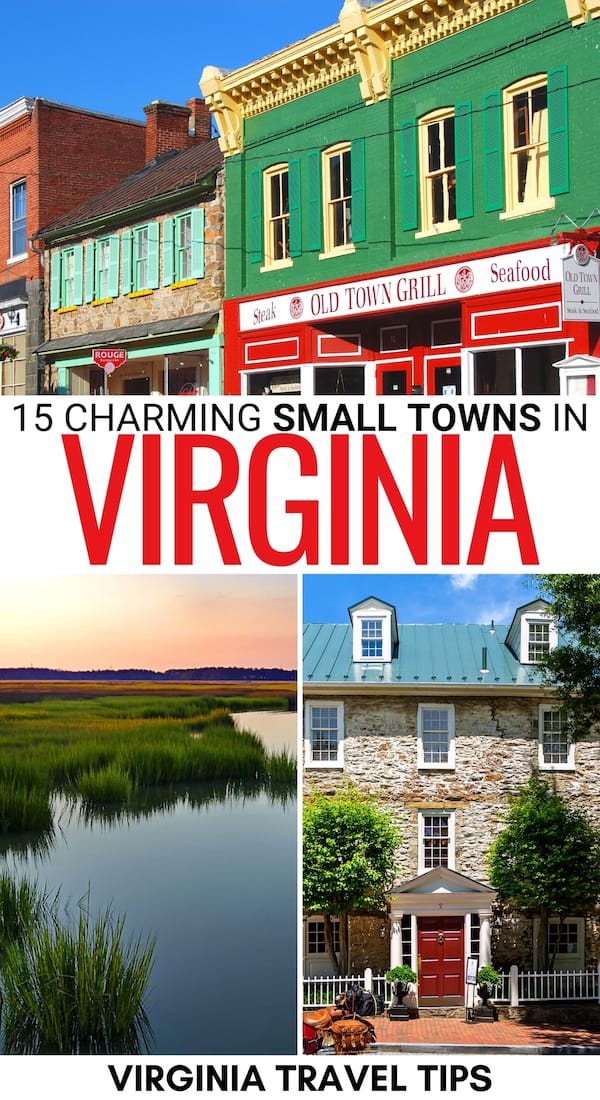 Photo Credits:
Culpeper // Editorial credit: refrina / Shutterstock.com
Middleburg // Editorial credit: Nigel Jarvis / Shutterstock.com
Occoquan // Editorial credit: Malachi Jacobs / Shutterstock.com
Leesburg // Editorial credit: Michael Kaercher / Shutterstock.com
Farmville // Editorial credit: Lekali Studio / Shutterstock.com
Warrenton // Editorial credit: refrina / Shutterstock.com